8Rental is famous supplier all over the Europe due to its excellent hire chauffeured provided services. Many glad customers return to 8Rental services as they are of higher level & affordable price. 8Reantl's target – be primary company on European roads. Hire car with driver in Montpellier
General rate includes:
Experienced chauffeur
Toll roads & highways
VATs
Business/ Standard vehicle
Fuel
Chauffeured car hire in Montpellier | Car rental with driver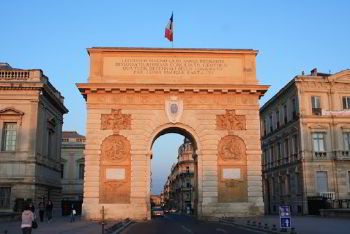 Montpellier is the capital of the Hérault department, Languedoc-Roussillon-Midi-Pyrénées region. It is situated on the south coast of France on the Mediterranean Sea. Montpellier has an estimated population of some 280 thousand residents which makes it the 8th largest city of France. The city is home to 100,000 university students. Montpellier - major industrial centre, producing textiles, metal goods, wine, printed materials & chemicals. Montpellier is twinned with Barcelona, Heidelberg & Kos. The airport of Montpellier-Méditerranée Airport is located in the area of Fréjorgues in the town of Mauguio.
Chauffeur service in Montpellier for those who want to visit young, vibrant city with a centuries-old history of intellectual advances & social tolerance. The city's attractions, like Place de la Comédie, Musée Fabre, Château de Flaugergues & Montpellier Cathedral show its richness & beauty. Visiting this city firstly in Languedoc-Roussillon-Midi-Pyrénées region, Rent a car with driver in Montpellier by 8Rental.com is looking forward to helping you!
Rent a car with driver in Montpellier or Montpellier Airport Car Hire?

Unlike many other French cities in this region, Montpellier has no Roman background.
The city is the seat of agricultural, military schools & international wine festival.
Whether traveling for business or pleasure, 8Rental's advice you to explore such destinations, as Jardin des plantes de Montpellier, Altrad Stadium, Antigone & Porte du Peyrou which represent Languedoc-Roussillon-Midi-Pyrénées's capital. 8Rental's cheap Chauffeur service in Montpellier will make traveling in Hérault department an absolute pleasure for you, your friends & family!
8Rental also serves Montpellier–Méditerranée Airport direction. With 8Rental you can rent the ideal chauffeur driven car with convenience & save unnecessary time & effort that can be used on dreamed travel.
Documents & driver licenses
Strict rule when hiring drivers at work in 8Rental – checking driving licenses & documents. Drivers can't drive automobile without required experience & licenses.
Standard car chauffeured hire option
Every passenger can apply for standard car hire with driver, because everybody can afford it due to it competitive rate in transportation field. Car is conveniently equipped, designed & organized.
Luxury car chauffeured hire option
Business meetings always require business car hire with driver. Leading offer to hire car with experienced & tidy chauffeur from 8Rental is available to business customers. Luxury car details will surprise you while traveling inside its saloon.
Booking requirements steps:
Write needs in quotation
Receive interesting proposal
Confirm with payment your decision.