Ancient Montpellier architecture is concentrated in the Aragon quarter, existing since the 12th century, a time when the city was ruled by the kings of Aragon. Narrow streets lead to the fortress walls. Of almost 25 towers, which crowned the walls, only one survived. That was the place where the observatory was located. Conceptual development of modernist experiments is presented in the Antigone quarter, built by Riccardo Boffo project in the 1980-ies. The ancient Greek motifs look modern, fresh & unique. The City Center is called the Comedy Square as it is located at the site of the burned theatre and where the train station is too. You can spend a great time on the Esplanade Charles-de-Gaulle, under the shade of trees, near the fountains. There are also a couple of good restaurants, lots of stalls with souvenirs & a food market.
8Rental serves as a leading car rental supplier in the passenger's transportation field. The aim of the company is to find the best & reliable approach to clients in order to provide high-quality services and by proposing a huge variety of vehicles. Hire a chauffeured minibus and discover the old & the new Montpellier regions with real pleasure!
An average offer will include:
Toll roads & highways
Organized minibus
Chauffeur
Fuel
VAT
Informational resources.
Book a minibus with a chauffeur in 3 steps:
Fill out a quote with your requirements
Get an enjoyable offer from 8Rental's
Make confirmation through one of the payment methods.
Minibus chauffeured rental services in Montpellier with 8Rental.com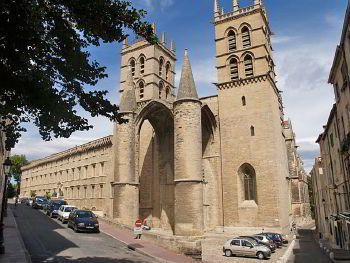 8Rental.com provides minibus hire with a driver in Montpellier &the whole Occitanie region. 8Rental offers all customers an extensive range of vehicles & the possibility to rent a minibus with a chauffeur at the most affordable prices. , is The reliable & comfortable Mercedes-prestigious class vehicle is the most popular among all brands of minibusses. At Méditerranée Airport you will be welcomed by our professional driver & he will drive you to the chosen destination.
Standard minibus chauffeured hire version
Hire minibus in Montpellier with a driver & feel the 8Rental's provided comfort during the trip & ride. The standard class minibus with driver everybody can afford because of the price/quality ratio is acceptable.
Luxury minibus chauffeured hire version
Soft carpets, wide corridors, air-conditioned/heating system, ergonomic seats, convenient shelves are the amenities od the business class minibus hire with driver. Rent luxury minibus for business trips & feel yourself free of worries.
Minibus rental with driver in Montpellier or Montpellier–Méditerranée Airport
Driving licenses & document requirements
None of the chauffeurs is hired to work with 8Rental until he passes the 8Rental's exams and approval of the driving licenses. Only high result and many years of passengers' transportation is considered an acceptable level for working with 8rental's company. The drivers are also accepted only if they speak at least one of the international languages. Hire minibus with driver & feel safe with 8Rental's chauffeurs!