Charter bus hire in Berlin
Berlin is home to many interesting attractions, but to ensure you don't miss anything during your stay, especially when travelling with a large group, you may want to look into bus rental in Berlin.
Why opt for bus rental in Berlin?
When you opt for a bus charter in Berlin, you are choosing an effortless and easy way to keep track of your whole group and ensure that your trip runs smoothly. When you're travelling with a lot of people, it can be tough to keep to a planned schedule, and having to deal with directions and public transport on top of this can be a nightmare. With a hired vehicle and driver at your convenience, all of these problems disappear.
How can 8rental help?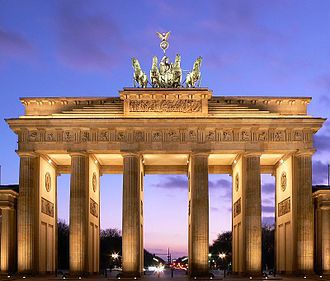 If you're looking to rent a bus in Berlin, 8rental is the team to call. Dedicated to providing a smooth and reliable service, hiring one of our vehicles with a driver is not only great value for money but also means that all the stress and hassle is taken off your hands - your driver will get you from A to B safely and on time, so all you need to focus on is having a good time in this great city. We have a large fleet, including standard and business vans, buses and coaches. With vehicles capable of transporting up to 63 passengers, 8rental will ensure your large group gets to the right places at the right times during your entire trip - and in a way that fits your budget!
How does our bus hire service work in Berlin?
When you opt for our bus rental with a driver in Berlin, everything will be sorted for you. All you have to do is let the driver know what time and where you would like to be picked up. Your driver will meet you at the pre-determined location, whether it's the airport, outside your hotel or at a local attraction. Throughout the duration of your rental period, your driver and bus will be available exclusively to you, so you can visit any destination you want hassle-free. This could include day trips, multi-day tours or even longer trips as you desire. In addition, all of your luggage can be safely stored in the vehicle while you are enjoying the sights, meaning there is nothing to distract you from making the most of your visit. If you're travelling for business, our drivers will ensure you get where you need to be on time and with as little stress as possible. We'll ensure you arrive promptly at your meetings and will get you back to your hotel swiftly after a long day.
Benefits of renting a bus with a driver in Berlin
The Charter bus hire proposed by 8Rental is acceptable for all clients. Having private bus with driver you can explore Berlin with friends, relatives or partners.
Dynamic & incredibly diverse, Berlin can rightfully be considered as the most exciting place on the European map. Being largest German city both regarding area & population, Berlin is a modern metropolis, the cultural & economic center of the EU. Berlin - one of 16 federal states belonging to the FRG. Berlin is located on a vast territory of 893 square kilometers, which is home to almost three & a half million people. Berlin - city with a surprisingly strange fate, throughout its history it has been continuously changing. From a significant trading city to a military, & then an industrial center.
The German capital was hard hit by the different consequences of two world wars. First one led to economic collapse & famine, after the second one Berlin city was thoroughly destroyed, & then divided into two parts. All these sad events of previous decades serve as a key to understanding modern Berlin that has changed so much over last 20 years like no other European capital. Today's Berlin is incredibly multifaceted: ultramodern buildings & quiet parks, club parties & classical music festivals, exquisite restaurants & street eateries, crowded students & hurrying clerks. In Berlin are concentrated many exciting things, but the most important is that incredible energy of a modern city. It is behind this energy that passengers should rent a bus with driver & visit magnificent Berlin.
Where to go in Berlin
There are some extraordinary places you can visit when you opt for our bus hire service in Berlin, including:
The Brandenburg Gate
This famous landmark symbolises the division between East and West during the Cold War. This is an important piece of history and is definitely worth a visit while you're in the city.
Berlin Cathedral
Originating as a castle chapel for the Berlin Palace, this is a great building to see in person. It's also considered one of the most important dynastic tombs in the whole of Europe. To tick Berlin off your bucket list, make sure to get in touch with us at 8rental today. A member of our helpful team can provide you with an accurate quote based on your specific needs.
 Offer's Price includes:
Hired coach
Chauffeur
Toll roads & highways
Fees
Fuel
Book a chauffeured coach in three easy steps:
Write needs in 8Rental's form
Obtain affordable offer
Pay confirmed booking