When you're visiting one of the most important historical cities in the world on a short break, there are more things to do than you likely have time for. To make sure you get to visit all of the sights on your bucket list, you might benefit from hiring a minivan so that your group can travel together, saving time and preventing you from having to navigate public transport in an unfamiliar city.
Why opt for minibus hire with a driver?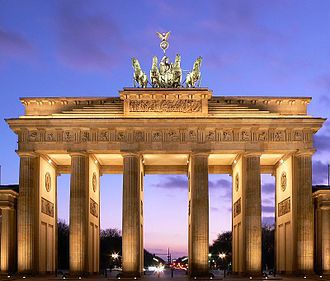 By opting for van rental with a driver in Berlin, you'll save yourself all the hassle and fuss of having to deal with directions and parking throughout your trip. Instead, you can make the most of your time and visit the unique and wonderful sights of the city, rather than getting lost or searching for a parking space. Choosing driver and minibus rental in Berlin also offers the added benefit of you being able to leave any luggage safely in the vehicle while you explore or enjoy day tours - no more carrying bulky bags around with you.
How is minibus hire service provided in Berlin?
When you rent a minibus in Berlin, all you need to do is agree on a location and time with your driver and they will arrive to pick up your party. Whether it's directly from the airport or outside your hotel, they will arrive promptly so that you don't waste any time. The driver will be available to you throughout the duration of your rental period and you can travel as far or as often as you like on the minibus. Head out for multi-day tours or excursions without having to think about the route or plan your transport ahead. For those who are in Berlin for corporate reasons, you can be sure of prompt arrival to your meetings as well as efficient transfer times between conference sites and hotels. Plus, your driver will ensure your timely return to your hotel or the airport at the end of a long day.
Which places can you visit using the minibus hire service?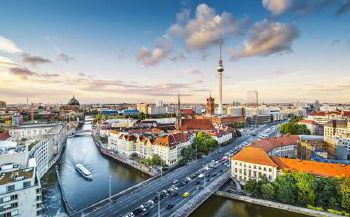 There are a whole host of great sights that you should visit while you are in Berlin - and best of all, they are accessible with minivan hire. Some of the most important historical places in Berlin include the sobering Holocaust memorial and the remainder of the Berlin Wall. Brandenburg Gate is also a popular location for tourists to visit as it symbolizes the division and reunification of Germany.
There are also some more light-hearted things to do in the wonderful German capital, including a visit to the Disgusting Food Museum or a day enjoying the lively art scene that Berlin is well known for. There are tonnes of things waiting for you to explore in Berlin, so if you want to make the most of your trip, make sure to get in touch with our team to get a quote for minibus hire today.
Why is 8rental the right solution for travellers?
When you choose 8rental for your minibus rental with a driver in Berlin, you're not only getting great value for money but also one of the highest quality services in the city. No matter how large or small your group is, we have the perfect option for you amongst our large minibus fleet. From the Volkswagen Caravelle for 4 - 7 passengers to the Mercedes Viano and everything in between, our range promises a variety of options and prices.
The general rate contains:
Modern minibus
Driver
Toll roads & highways
VAT
Fuel
Minibus chauffeured hire in Berlin
In the center of Berlin are concentrated its main attractions: the Brandenburg Gate-the symbol of a reunited city, Reichstag, Berlin Cathedral, which is closely associated with German history & the imperial dynasty of Hohenzollern, Rotes Rathaus & Alexanderplatz. The main Berlin streets are Unter der Linden & Kurfurstendamm &, of course, so popular Museum Island.
Berlin is called the great "history textbook in stone." Its largest museum centers are Museum Island, Charlottenburg Palace & its surroundings, Museums in Dahlem & Cultural Center in the Tiergarten. There are more than 130 museums in Berlin in total.
There are 3 opera houses, the Old & the New National Gallery, eight symphony orchestras, and more than 150 theaters & stage venues.
Berlin's shopping streets, shopping centers & markets offer everything to the heart of buyers. Favorite & famous are the "Walking mile" of the Kurfürstermamm, the new complex on Potsdamerplatz & the rich tradition of Friedrichstrasse. Chauffeurs will drive you through all these streets.
Minibus chauffeured hire in Berlin or Berlin Tegel Airport
Berlin is the city of everyday event: concerts, parties & balls, international film & theater events, opera & other theaters, concert halls & libraries, Berlin festival weeks, International Film Festival, Berlin Theatre & Jazz Festival, as well as well-known long nights of culture & science-the only one of its kind in the world. Rent a chauffeured van in Berlin with 8Rental.com & spend your time relaxing & enjoying.
Chauffeured van hire in Berlin will melt your heart as the provided level meets all passenger's wishes. The tidy chauffeur will greet you at Berlin Tegel Airport in time.
The booking process takes 3 steps:
Filling required quotation by 8Rental
Find affordable offer
Confirm booked van via payment