Coach Hire in Cologne, Rent a bus
Arriving in Cologne, guests of the city are often faced with a need of getting around the city. That's why coach hire in Cologne has become extremely popular service recently. 8Rental.com offers a wide range of buses available for rent in Cologne, as well as various service options: shuttle service airport-hotel, station-hotel; long-term rental coaches with driver; bus rental for Cologne sightseeing tours, business or countryside trips.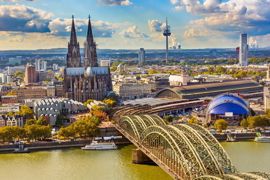 The main attraction of the city is the world-famous Cologne Cathedral, a grandiose monument of medieval Gothic height of more than 150m. Cathedral is one of the most popular architectural structures in Germany. Construction of the cathedral lasted over 600 years, from 1248 to 1880.
From the cathedral is clearly visible Great St. Martin Church-One of the most beautiful Romanesque churches in the city. The city has 31 museums. The subject of museum expositions varies from archaeological discoveries to modern paintings. In addition to the permanent exhibitions, the art fair "Art Cologne" is held annually in the city.
Rent a bus in Cologne and explore the city by your own pace.
Bus hire in Cologne or Cologne Bonn Airport
Bus charter service in Cologne – 8Rental.com

8Rental.com is a major charter bus company ensuring bus hire and charter coach rentals in Cologne and Germany. We offer a convenient service for those who are interested in renting a bus with driver at an affordable cost in Cologne. Our "8Rental" staff will help to choose the right brand and model of coach, focusing on your needs and goals.
Coach hire at Cologne Bonn Airport
We provide transfers throughout Cologne as well as airport-hotel, hotel-airport transfers.
Quick Quotation and easy booking: Coach hire in Cologne
Contact us via our contact or quick quote form and get your best quote today!