Van hire in Cologne, Minibus rental with chauffeur
Cologne is a very frequently visited city in Germany that attracts with its rich history. The city is over two thousand years' old and definitely has much to offer its visitors. 8Rental, meanwhile, has a special offer to all those who need reliable transportation in this city. It's possible to rent a van with driver in Cologne before leaving for the city to save your time and head to your hotel in complete comfort. So, traveling in Cologne with a large group of friends can be a mere pleasure and fan if you choose 8Rental as your "companion"!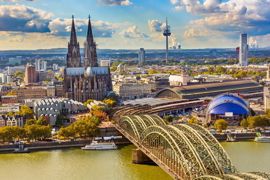 Booking a Van
For hiring a minivan from 8Rental, you will need to get a quote and complete the form. Such information as trip and transport details will be required to state. This may include the trip type, the pickup and drop off addresses, the number of passengers, the van model, as well as any additional demands you might have. Once you have stated all this, it's time to provide your personal information involving name and surname, contact number and email. You see that it won't take you more than a couple of minutes to fill in this quote.
Minibus Options
Before you hire a chauffeured minibus in Cologne, it's definitely worth determining which model will best suit your requirements. 8Rental presents a couple of van models on its official website. Yet, if you can't determine which to book, or find none meets your demands, our CS operators will gladly offer the best solution for you.
For exploring the beauties of Cologne with a group composed of up to eight persons, a Mercedes Viano is quite a decent variant. This vehicle looks elegant and is equipped with a series of amenities for providing comfort and security on the road. The model is available in standard and business classes. There are certain differences between the two models.
Another fabulous minivan 8Rental car and driver supplier has in its fleet is Mercedes Sprinter. The latter will drive up to twenty-four passengers at once. This is a capacious vehicle in excellent condition! Additionally, it's applicable in VIP class, too. Hence, depending on the money you can afford on booking the van, pick up the suitable one!
Choose Your Driver
Our staff of drivers is built up of credible experts who demonstrate a responsible approach to every order. All of them are licensed, have much practice in the field of passenger transportation, are always sober, and can find any direction necessary instantly. What makes them different is the language they speak. Surely, all of them master German, but there are also those who speak English, French, Italian and other languages. Choose the chauffeur that speaks your language. This way, you will have the chance to communicate with him and learn additional information about the city. Hire a chauffeured minibus in Cologne and enjoy safe and professional transportation in this European city.

Cologne Off the Beaten Path for Unique Tourists
Cologne is an ancient city with a rich history. From Gothic churches to Roman towers and modern architecture pieces, the city impresses visitors from around the world. Around six million people come to explore and admire the numerous sights of this city. And if your friends and you want something new in Cologne, 8Rental can hint about some really fascinating off the beaten path destinations. There are some amazing unusual museums such as the Museum of Applied Art, Rautenstrauch-Joest-Museum, Melaten-Friedhof, and others. All of them are wonderful points to start you traveling from.
Entrusting 8Rental
8Rental chauffeured service is available day and night for all its customers. You can apply to our services whenever it's convenient for you. Be sure, there are few car rental services in Europe that can compete with the quality of services we provide. Besides, by relying on 8Rental, you are getting free fuel irrespective of your route in Cologne. You will not be responsible for any fees or taxes. We are existing due to you and for you!