Car hire with driver in Cologne
Are you heading to Cologne to explore all its known and not so famous wonders? 8Rental is here to offer you reliable car rental with driver in Cologne. We can make your traveling in this magnificent German city comfortable and unforgettable. All that you need to do is to get a quote from 8Rental before leaving for Cologne and placing an order. Leave the rest to us and experience how agreeable it is to deal with a professional car and driver supplier.
Make a reasoned choice of a private car with a driver
We have some of the most spectacular private cars in our fleet. When selecting a model to rent a car with driver in Cologne from our fleet, base your decision on such criteria as your budget, the aim of your visit to Cologne, and your personal preferences.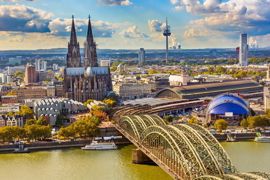 Our standard class cars with drivers include Skoda Octavia, Toyota Camry, Ford Mondeo, Volkswagen Passat and others in the same price segment. Each of these private cars is an excellent choice for those who are short on money and need something affordable yet elegant.
These cars with drivers are much more impressive. Hiring them costs more yet the pleasure you will feel while driving in these cars is definitely worth it. Book an Audi A6, BMW 5 or a Mercedes E class model. The stunning exterior of these cars, along with luxury leather cabin and premium specifications (cruise control system, climate control, premier audio system, etc.), make each of these cars a perfect choice for those who seek sophistication in the private car.
Nevertheless, in case you are a VIP client who is used to driving only in indulgence, 8Rental suggests hiring a BMW 7, an Audio A8 or Mercedes S class car. Hire a chauffeur-driven car in Cologne to have the chance to sit back in the cabin of a lavish car while an expert chauffeur is sitting behind the wheel. Draw all eyes to you while you are driving along Cologne's roads in a first-class car.
Choosing 8Rental as your car service in Cologne
It's been years since 8Rental started operating in Cologne. Providing people from around the globe with premium quality transportation in all major German cities including Cologne, 8Rental managed to build a reputation as a trustworthy service. And now it's your turn to experience fantastic passenger transportation.
8Rental's dependable private chauffeurs in Cologne
8Rental has employed a staff of expert drivers. By applying to our private car supplier and booking a car service, you are getting an acknowledged chauffeur at your disposal. All the drivers we work with, are licensed professionals with significant experience in the sphere of passenger transportation. When completing a quote you can mention the language your hired driver should speak. We can provide you with English, French, German and other language-speaking drivers.
Transparent offers for private drivers in Cologne
Would you like to be met right at the airport or the railway station? When you rent a chauffeured car in Cologne before leaving for this city, just mention the pickup address and be welcomed into Cologne in comfort and style.
If you want to have some extra features in the booked car with driver, just let us know beforehand. We shall make sure everything is prepared for you to enjoy every moment spent on the way. By the way, we shall provide fully inclusive offer, and the fees and taxes are our responsibility.
Explore Cologne's unique destinations 
Cologne is a fascinating city with plenty of fantastic attractions. Surely you can choose the standard route and visit all the museums, landmarks, churches and other sights. Yet, to uncover the real beauty of Cologne, it's worth trying the not beaten path.
Hire a chauffeured car in Cologne on the most profitable conditions in the industry and tell your chauffeur to drive you to Museum fur Angewandte Kunst where you can admire the art of diverse local designers. Melaten-Friedhof is a cemetery yet it can serve as a "door" to Cologne's art, storied history, and personality. The National Socialism Documentation Center is an obvious reminder of all the horrors that happened during World War II and the Holocaust. This is a prison where everything is kept just like it was. 
By choosing such a travel path, you will have your peculiar stories to tell once you get back home.