Coach hire in Dusseldorf, Rent a bus
Coach hire in Dusseldorf is specialization of our company. We take into account the specifics of city's movements and needs of our customers, offering a number of special rates for bus rental in Dusseldorf. We are constantly improving our services and strive to make them more convenient and accessible.
T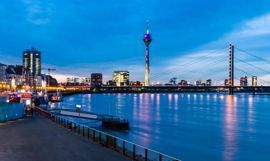 oday, Dusseldorf is the capital North Rhine-Westphalia. The city has focused the head centers of major German banks and financial companies in the country. Here are the headquarters of many large companies (Henkel, Vodafone, Degussa, Metro AG, WestLB). Daimler has places in the assembly plants for the production of the car Mercedes-Benz Sprinter in Dusseldorf. A Volkswagen AG manufactures VW Crafter in there. There are the major educational institutions, in particular the prestigious Heinrich Heine University and the famous Dusseldorf Academy of Arts.
Many recognize the Dusseldorf as the most elegant metropolis in the Rhine Valley. The world famous city was due to its unique fashion weeks which attract designers from around the world. During this Dusseldorf is called German center of fashion.
The historic city center has been always of great interest. Local residents call it the Altstadt. Here is concentrated the most notable for foreigners buildings. The mandatory program of excursions includes old churches, lovely brewery, cozy restaurants. Here you can sit at the longest "breakfast bar" in the world. So called arranged one after the other 260 old pubs. In this area is located the Altes Rathaus Dusseldorf and the traditional market square Burgplatz.

Rent a bus in Dusseldorf and do not worry about transportation problems!
Coach hire in Dusseldorf or Dusseldorf Airport
Bus charter services in Dusseldorf – 8Rental.com
8Rental.com is a major charter bus rental company ensuring bus hire and charter coach rentals in Dusseldorf and Germany. Booking a rental bus in Dusseldorf from 8Rental, you can also choose the pick up at any place: at the airport, at the train station, at your home or office.
Bus hire at Dusseldorf Airport
We also provide transfers to/ from Dusseldorf Hauptbahnhof and Dusseldorf Airport shuttle services.
Quotation and secure booking: Coach hire in Dusseldorf by 8Rental.com
Send us your transportation needs and necessary requirements on This email address is being protected from spambots. You need JavaScript enabled to view it. or contact us via quick quote form for receiving your best price!