Coach hire in Dusseldorf, Rent a bus with driver
Germany is among the most frequently visited countries with over seventy-five million tourists' annual visits. Dusseldorf is one of those cities tourists prefer the most. This city is a wonderful destination for people with diverse interests. Therefore organizing a grand tour for foreigners is a wonderful decision. For this, you will, first of all, need a reliable means of transportation. What about hiring a huge coach? Surely this is a good variant as long as you are sure in the reliability of the vehicle and the qualification of the driver. 8Rental can become the best source for all this. This car rental service has been operating in the field of passenger transportation long enough to understand what clients expect when booking a vehicle. We are ready to provide you with everything necessary so that your guests enjoy their stay in Dusseldorf!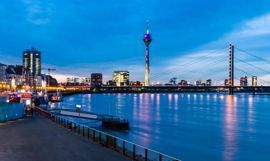 Impressive Fleet of Coaches
Meeting a large group consisting of over sixty people? No problem! Our Mercedes Tourismo is a grandiose variant for you! Hiring the model, you will be able to provide your foreign guests with all premier comfort amenities. Such specs as a toilet, a fridge, carpeted floor, tinted windows, air conditioning, central heating will be at your full disposal. Additionally, the vehicle looks simply gorgeous! What else can you expect from a bus? Wait, if you need a more luxurious variant, why won't you choose Tourismo VIP to rent a bus with driver in Dusseldorf? This is the advanced model of the above-described coach. It is equipped with even more impressive features specially for your VIP clients.
Nevertheless, Mercedes Tourismo may appear too large for relatively smaller groups. For instance, Mercedes Sprinter (standard and VIP models are available) can become the perfect choice for groups composed of up to two dozens of people. The vehicle is in excellent condition and will drive all of you with no hustle and bustle along Dusseldorf's roads to all directions. Just choose this model and hire a chauffeured coach in Dusseldorf so that all of you can enjoy every minute spent on the roads!
Qualified Drivers Only
Working with qualified drivers only, 8Rental becomes capable of guaranteeing the safety of all its clients. Our drivers are real experts with respective driving licenses, long years of practice in the field and a deep sense of responsibility. 8Rental has employed not only German-speaking drivers but also those which master English, Russian, French, and other European languages. Which to choose, depends on your convenience.

Especially for You
We value the trust of our clients and do never let them down. We strive to achieve a high customer satisfaction level and do our best for this. To please our clients, we provide free fuel for their all tours in Dusseldorf no matter whether the bus you book will stay at your disposal for a couple of hours or an entire week!
Additionally, after you get a quote, fill it out and submit, you will get an almost instant response with the precise cost for the order mentioned. We hide no fees or taxes. The pricing system is really transparent.
8Rental is ready to send its driver right to the Dusseldorf Airport to meet your guests. They are sure to love this idea, as they won't have to travel in separate taxis to get to their hotels. You see that 8Rental has made everything to make your coach hiring experience profitable?
Weekend in Dusseldorf
Dusseldorf has a rich history, nature, and culture. All this is amazingly harmoniously blended with the metropolis vibe. The things to explore here seem to be endless, while time is always very little. However, spending three days here, your tourists will manage to see and admire much. So, after you hire a chauffeur driven coach in Dusseldorf, tell the driver take all of you to Old Town. The latter is considered the heart of this city. Here they can dine in fashionable restaurants, taste real German beer, and admire a series of sights. Other important places to take your guests during these three days are the Rhine Tower, MedienHafen, Classic Remise Dusseldorf, Loebbecke-Museum und Aquazoo, Standehauspark, Kunstsammlung Nordrhein-Westfalen.