Minibus hire in Dusseldorf
Traveling in Dusseldorf or any other Germany city has become easy if you do it with minibus rental in Dusseldorf by 8Rental.  It is the service you can apply anytime you need and be sure you will be serviced to the highest level. We "tailor" every order to the client's convenience. We try to provide any amenities our customers would like to get in the minibus they book. Additionally, 8Rental organizes strict supervision over every order to make sure the tour passes smoothly with no problems. The safety of our clients is a priority for us. We put the customer satisfaction level above everything.
Explore Dusseldorf
Dusseldorf is one of Germany's most visited cities famous for not only its fabulous beer but also boundary-pushing architecture, dazzling nightlife, and excellent business centers. This area is also considered as the wealthiest city of entire Germany due to the highly developed fields of advertising, TV communication, fashion, and, of course, banking. So, once you are here and rent a van with a driver in Dusseldorf to spend your vacation with family, you should, by all means, take the direction to such remarkable places of interest as Wildpark of Dusseldorf, Neanderthal Museum, Phantasialand, Dusseldorfer for Marionettentheater, Rhine Tower and Hofgarten park.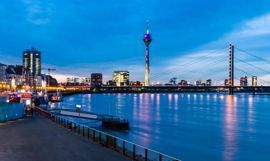 Comfortable ample minibuses
Dealing with 8Rental, you are guaranteed with unforgettable driving experience in Dusseldorf. Rent a van with a driver in Dusseldorf and enjoy every minute of your stay in the magnificent German city.
The range of minibusses 8Rental has to offer its clients includes several most practical, comfortable and at the same time elegant-looking models. Depending on how many travelers will be included in your group, you may rent a Mercedes Viano, V class or Sprinter (standard and VIP options available). All these vans are in excellent condition and won't ever let you down on the road. In case your group is built of around eight people, it will be wiser to choose Mercedes Viano. This compact minibus is equipped with every amenity for having comfortable driving in Dusseldorf.
For larger groups, meanwhile, 8Rental suggests booking a Mercedes Sprinter designed for accommodating twenty-four passengers. It is an impressively more spacious model. It features a line of specs including air conditioning, air suspension, central heating, tinted windows, an advanced audio system, etc.
If you wish, you can order additional specs such as a minibar, a TV, etc. No matter, which model you choose to hire a minibus in Dusseldorf, you can be sure of its reliability.

If you decided to rent a chauffeur-driven minibus in Dusseldorf from 8Rental, here is a brief instruction on how to do it:
Get a quote;
Choose your start date and time;
Insert the address to pick you up and drop off;
State the number of passengers;
Choose the van type and model;
Mention any additional request you may have including the
The language your driver should master.
After this is done, all that is left is to mention your name, surname, and contacts. Send the request and expect your minibus hire right at the Dusseldorf airport.
Trust only professional minibus drivers
Traveling to Dusseldorf, you can no longer worry about taking your driving license with you, as 8Rental offers minibuses exceptionally with drivers. All of our specialists are experienced, skillful and responsible. Entrusting your transportation in Dusseldorf to them, you won't ever regret it. Just sit back comfortably, chat with your friends, colleagues or family members, and let the chauffeur you booked drive you all around Dusseldorf. Our credible drivers speak German, English, French, Russian and several other languages. Hence, feel free to order the driver you will enjoy communicating with.
Freebies
Stopping your van rental in Dusseldorf choice on 8Rental, you are sure to benefit a lot. Besides the beautiful minibus and skillful driver, 8Rental can provide you with a series of other amenities such as free fuel, insurance, optional vehicle specs, meeting at the airport, etc.