Car hire with driver in Dusseldorf
Before hiring a car with a driver in a foreign city, it's important to take into account some aspects. First of all, one should pay attention to the reviews left by real customers. Their opinions left are really trustworthy. Afterward, compare the conditions offered with those you can find at other private car services. 8Rental is a car service with driver supplier which has earned a good reputation due to providing its clients with premium-level services. Our customers around the world highly appreciate us and know they can rely on us whenever they need to rent a car with driver in Dusseldorf or any other European city. We do never betray our customers.
Best private car service offered to your choice in Dusseldorf
8Rental has quite a large fleet of diverse vehicles. Here you can book as standard, so business and first-class private cars on an affordable basis. If you have a strictly limited budget, you'd better consider booking a Skoda Octavia or a Volkswagen Passat. Both models, just like all other similar ones, look wonderful and are equipped with all premium comfort amenities. Air conditioning, reliable safety systems, comfy seats, and a number of other specs can be found inside all these cars.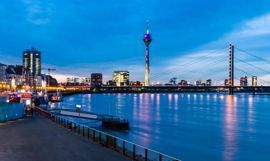 Anyway, 8Rental owns some truly luxurious models, too. These are cars by world-leading auto manufacturers such as Mercedes Benz, BMW, Audi, etc. The cars are gorgeous and will leave people on the city roads gazing at you with jaws falling down. Don't you believe it? Then hire a chauffeur-driven car in Dusseldorf and get assured of it yourself. Be prepared to get pleasantly surprised.
Profitably hiring car with driver 
We have adopted a clear and transparent pricing system. By providing a client with a car and driver, we set the precise cost and hide no fees. To get the accurate amount of money you are to pay for your order, just get a quote, fill it out and submit it. Almost instantly, you will get a notification with the cost you are to pay for the order.
Dealing with 8Rental is beneficial in all ways. Besides the affordable hiring costs, we also supply all clients with free fuel for the whole tour no matter how long it may be.
If a client has certain additional requirements, such as a TV or minibar installed in the car, we can provide it at an extra cost. There is nothing impossible if you choose 8Rental.
Would you like to be met right at Dusseldorf Airport? Or perhaps you are arriving in Dusseldorf by railway? In all cases, it's you who tells the pickup address. Hence, it may be the airport or the railway station, as well. Hire a chauffeured car in Dusseldorf to enjoy truly comfortable and pleasant driving. We are 24/7 online for all our clients.

Private chauffeurs to rely on in Dusseldorf
Are you a good driver yourself and rely your transportation on others with difficulty? No need. All the chauffeurs employed by 8Rental are grandiose experts of their job. These are licensed, experienced and responsible professionals the task of which is delivering you to your destination in perfect comfort and safety. Be assured, every driver working for 8Rental was employed only after a keen examination and testing. We do care about the safety of our customers.
Dusseldorf in One Day by renting car with driver
Dusseldorf stands on the banks of Rhine River. This city is popular all over Europe for its fantastic-tasting dark beer Altbier. Yet, there are a great variety of sights of great historical and cultural importance. Hence, even if you have only one day to explore Dusseldorf, you will get unforgettable impressions.
Start your day with Bazzar Caffe. Taste some fresh delicious coffee and go ahead to Old Town. Here you can admire Schlossturm (the castle tower of Dusseldorf) and several amazing churches, as well as do some shopping. Continue your tour with Konigsallee and Hofgarten park. If you get hungry, it's worth having a big and the most delicious burger at Bob & Mary. Other places worth visiting on your first day in Dusseldorf are Oberkassel, MedienHafen, Rheinuferpromenade, Rhine Tower.