Charter bus hire in Lille
To find a primary hire bus supplier, it's easy by navigating the 8rental service. Experienced travelers know that there is an excellent public transport network in Lille, which makes visiting this historic place even more pleasant. Bus rental in Lille by 8Rental and explore the city's sights by your own itinerary.
Bus rental choosing options in Lille
Coach rental with driver in Lille: standard variant
Hire a standard bus with driver & gather many friends, relatives, or guests together at the desired event. The 8Rental company guarantees a safe & comfortable ride.
Charter bus hire: business variant
Mercedes Tourismo – a coach with a driver, will become your conductor to the business world as it contains luxury elements: soft carpets, designed curtains, modern kitchen, toilets, luxury aircraft seats & coffee machine.
General cost includes:
Elegant minibus
Competent chauffeur
Toll roads & highways
Fuel/ Petrol
Taxes
Book the desired bus with a driver in 3 steps:
Write requirements inside 8Rental's quote
Get an affordable offer from 8Rental
Pay booked proposal for confirmation
Coach chauffeured rental in Lille or Lille Airport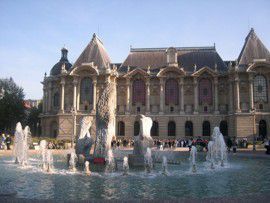 While hiring a modern chauffeured bus in Lille, the customer can carry all partners without making them feel uncomfortable; organize diverse activities - seminars, exhibitions, conferences; welcome visitors from different cities who came for a wedding or anniversary. Bus chauffeured hire in Lille from "8Rental" makes it possible to discuss both time & place of passenger's delivery, which is comfortable & saves funds.
Bus rental in Lille by 8Rental - what to see in Lille? 
Many years ago Lille was the capital of the historical French Flanders region. For this reason, many native people still speak the local dialect of the French language, which is seen the Flemish influence. This dialect is utterly incomprehensible to foreigners, but all tourism industry employees communicate with customers in understandable literary French or English.
For centuries, Lille's been famous for the quality of its high-grade textiles. Nowadays, many young designers visit Lille, searching for creative growth. Among other economic sectors, which play an essential role in the city's development, is worth mentioning also trade, technology, health & tourism.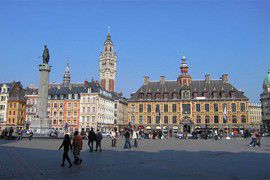 Explore Lille
Lille - architecture triumph created under strong Flanders influence: from the Grand Place (in whose facade still are Austrian cannonballs) to the cathedral of Notre-Dame de la Trey & quiet streets with rows of houses & gardens.
Art lovers can rejoice: Lille has the Museum of Modern Art & the Palace of Fine Arts. Children would like to visit the famous Zoological Park. 
Drivers' choosing options
Driver's licenses & document verification
8Rental's chauffeurs pass verification on driver's licenses, cards & documents when hiring at work. Drivers have experience by driving a vast variety of vehicles. Chauffeurs are acquainted with local directions, rules & sights.