Minibus hire in Lille, Rent a minibus with driver
In passenger's transportation field exists many suppliers, but only 8Rental company has fame of leading one. The goal of 8Rental's team to find out best solutions in passenger's transportation & provide great service in cooperation with 8Rental's drivers. Hiring a chauffeured minibus in Lille you chose a best way to organize wished trip.
Overall rate contains:
Lille's minibus
Chauffeur
Fuel/ Petrol
Toll roads & highways
VAT
Rent a passenger van in Lille with driver & turn your journey in the unforgettable entertainment!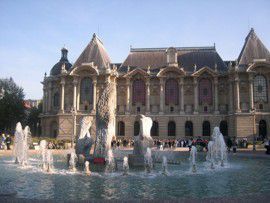 If you arrive in Lille on business or as a tourist & want a decent service standard, minibus hire with driver in Lille from "8Rental" will be your logical solution to get around the city. You can book a minibus with driver for any period of time, from several hours to several days. Minibus chauffeured rental in Lille by 8Rental.com will be a cheap & convenient option for you.
In Lille is located a popular historic center, where every building has long & mysterious history. You cannot ignore the Cathedral Notre Dame de la Treille with one hundred-meter bell tower. Today in its crypt are the objects of worship of the 12th century. Be sure to admire the majesty of the Église du Sacré-Coeur & Paroisse Sainte Catherine. Fans can visit the beautiful Museum of Fine Arts, occupying palatial 19th century building. There is a huge fund, which is inferior in size only to the Louvre.
The city warmly welcomes visitors & offers them very good living conditions. Many hotels in Lille are known for excellent service & pleasant staff. Very popular among travelers are the other attractions of Lille. Thus, the present architecture of the 15th century can be found in the Palais Rihour, which was once home to the Dukes of Burgundy.
Passenger chauffeured Van hire in Lille or Lille Airport

8Rental.com provides minibus hire and passenger van rental chauffeured services in Lille & Hauts-de-France region. Hire chauffeured minibus in Lille is assigned to each client, & will be waiting for customer wherever he needs to. You will be served by an experienced driver that meets your needs & service level.
Driver licenses & document checking
Checking driver licenses is mandatory option for each chauffeur working in 8Rental firm. Experience is required quality for every driver.
Hire standard chauffeured minibus in Lille
Standard chauffeured minibus hire option can ease everybody's trip as this option makes your travel comfort, organized & magic.
Hire business minibus in Lille
Business partners have high level requirements & hire minibus luxury version is developed especially for them
Van hire services with driver in Lille – 8Rental.com
Book chosen minibus:
Write needs in quote
Receive acceptable offer
Pay your choice.