Getting around Austrian cities and the countryside can be stressful for any non-local. However, 8Rental minibus rental in Austria aims to provide you with the smoothest experience possible. We have incorporated a fleet of multiple minibuses with different capacities, so you can be assured of flexibility and cost-efficiency upon hiring a chauffeur-driven van from 8Rental.In an event-rich country like Austria, minibus hire is an affordable, safe, and efficient way to get around and stay on schedule. Book your perfect minivan with a skilled driver from 8Rental with our easy-to-use online booking tool within minutes, send us an email, or simply call us if you need assistance with your booking - we shall be there for you at any time of the day.

Why you should consider renting a minibus in Austria
Applying to a minibus rental with a driver in Austria, you are relieving yourself from wasting time searching for every destination, renting several cars and losing each other on the way, and debating over which team members to force the responsibility of driving all of you in a foreign country. Instead, entrust your transportation to an expert and make the most of your journey.
Every driver of our large team is polite and professional, speaks English, and has impressive experience transporting passengers. If you need any advice regarding traveling in Austria, feel free to communicate with your driver.
8rental van rental services
Our minibus company deals with a number of groups heading to Austria for different purposes, and we cater our services to all of them. We satisfy all our clients' transportation needs, including sports teams, corporations, student groups, traveling groups made up of older people, etc. Our minivan rentals are also great for shuttle services.
For convenience and cost-efficiency, corporations in Austria regularly apply to 8Rental for hiring a minivan. Common corporate trip types in Vienna, Salzburg, and Innsbruck range between conference and trade shows, training procedures, and company retreats. Whichever applies to you, you are welcome to 8Rental to provide your colleagues or foreign guests with premium quality transportation.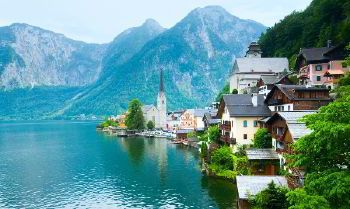 Our minibus services in Austria are perhaps the most demanded. They are designed to ease travel through traffic-heavy cities like Vienna or Salzburg during rush hours. Shuttle services can be appropriate for a number of purposes covering conferences, airport transfers, events, private parties, business tours to construction sites, sporting events, etc. All our minivan shuttle services in Austria, whether for tourists or locals, come with experienced drivers, ensuring your group gets from one location to another safely and timely.
And finally, we have a faithful clientele regarding leisure travel in Austria. Our customers know that even the most saturated and complicated tours will be accomplished within the necessary time frames with 8Rental.
Our Extensive fleet on private vans
Welcome to 8Rental to rent a minibus in Austria and make your small group traveling as enjoyable as touring in a foreign country can ever be. Our fleet is equipped with the market's most comfortable and advanced vans and minibuses to gear the services to every client's requirements.
For small groups of up to seven passengers, we recommend a Mercedes Viano, Ford Transit, or Volkswagen Caravelle. These are Standard Class vans which are perfect for comfortable but budget transfers. If you are welcoming a group of people in Austria to a business meeting, meet them in a Mercedes V Class business minivan. Equipped with an interior trimmed of expensive leather, beautiful lighting, and excellent specifications, the latter ensures luxury riding in any city or suburb of Austria
For bigger groups of up to 19 people, you can choose a Mercedes Sprinter charter minibus in Austria or a Ford Tranzit available both, in Standard and Business classes, depending on your budget and type of trip.
What not to miss in Austria
Austria is a popular European traveling destination thanks to its spectacular mountain scenery, quaint villages, and baroque architecture of some prominent cities. Austria was once a vast European empire and still mirrors the richness of its past glories. In addition, the country's cultural, commercial, and political center Vienna, shines as a beacon of architecture, classical music, art… and pastries. Hence, if your group is on a gastro tour, you are welcome to Vienna first of all.
Apart from Vienna, there is also much to see and experience in Austria. Remember to include Worthersee, the largest lake in Carinthia, lying in the south of Austria at the foot of the Gurktal Alps and Karawanks mountain range.
Austria's second-largest city after Vienna, Graz, is another must-see due to the perfectly preserved Baroque palaces, Renaissance courtyards, centuries-old churches, and the tree-clad Schlossberg Hill with its iconic clocktower, modern museums, etc.
If your group is composed of older people, they will definitely love the serenity of St Anton am Arlberg, a ski resort town nestled in the heart of the Tyrolean Alps. The entire region, with an extensive ski area catered for all mixed levels of abilities, is a dream for an outdoor enthusiast.
Travel with Comfort, Travel with a private minibus
So, regardless of your group size or travel purposes, 8Rental welcomes you with a large fleet of minibuses and minivans and a big team of English-speaking professional drivers to make your transportation in Austria the most comfortable and the most remarkable. Get a quote, apply to our minibus hire in Austria offer, and make the most of your tour in this amazing European country.