Coach hire in Stuttgart, Rent a bus
8Rental company offers coach hire and bus charter bus services in Stuttgart. Buses are available for rent with drivers only. With us you can order the coach on hourly basis as well as shuttle service to/ from the Stuttgart airport or railway station.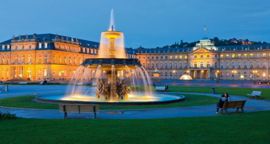 Stuttgart is still a city of culture and art, which has numerous museums and a world-class exhibition complex, wordlwide-known opera and ballet sites, recognized center of winemaking, the birthplace of many famous philosophers, writers and musicians. Fvineyards, meadows and gardens still occupy more than half of city's area. It is very interesting, that even the name of the federal land comes from the name of a steep hill Württemberg, which was the first residence of the rulers of these places.
You can rent a bus in Stuttgart and visit the Altes Schloss on Schillerplatz. It is the residence of the rulers of the region from about 1320, when it was built.
Practically next door, in the southern corner of the Schlossplatz stands the impressive complex of another royal residence-Neues Schloss.
Collegiate Church (Stiftskirche, University Church of the Holy Cross) - the main in the hierarchy of the Evangelical Lutheran denomination Württemberg, was built in X-XI centuries.
Also worth a visit place is the old Market Hall (Markthalle) in the Art Nouveau style, which lies in the north-eastern end of Königstrasse old railway station, the city and the region's main transport hub.

Rent a bus in Stuttgart and become a witness of city's majesty and nature!
Bus hire in Stuttgart or Stuttgart Airport
Coach charter services in Stuttgart – 8Rental.com
8Rental.com is a major charter bus rental company ensuring bus hire and charter coach rentals in Stuttgart and Germany. Ordering our service, you have a guarantee of receiving a high quality driver with safe driving skills and knowledge of the Stuttgart city and its surrounding area.
Coach hire at Stuttgart Airport
We also provide transfers to/ from Stuttgart Hauptbahnhof and Stuttgart Airport shuttle services.
Quote and secure reservation: Coach hire in Stuttgart by 8Rental.com
Write us your needs and requirements on This email address is being protected from spambots. You need JavaScript enabled to view it. or use our quick quote form for receiving your best trip quotation!