Charter bus hire in Stuttgart
Choosing Stuttgart for your tour is the right decision. It makes one fall in love with it and yearns to return to see and explore more. And if your guests have arrived in Stuttgart for the first time, they have a vast majority of sights to admire.  8Rental is the pledge for reliable bus rental in Stuttgart and the entire of Germany. We have been serving in the industry of passenger transportation for over several years, and have never let down the expectations of our passengers.
We know well what tourists expect when hiring a coach. Hence, don't go further but hire a bus with a driver in Stuttgart to relieve yourself from the burden of caring for your guests' security in this wonderful German city. Remember, no matter how amazing Stuttgart may appear for your guests, it will remain a foreign city for them, and they will feel the need to be protected here. Leave that to us and concentrate on your guide's responsibilities instead.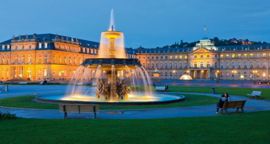 Compact and large coaches for hire in Stuttgart
Our fleet of buses is composed of small models, but we also have large ones. Counting on how many guests you are to welcome in Stuttgart, you may rent a Mercedes Sprinter or Mercedes Tourismo. Both models are offered in two class variants - standard and VIP. Mercedes Sprinter is a compact, yet highly comfortable bus that will accommodate around two dozen people in complete comfort. It is in excellent condition and looks quite impressive. Inside the coach, you will find comfy seats, a carpeted floor, tinted windows, air conditioning, central heating, and other essential features. The VIP variant is better equipped yet will cost a little bit more expensive.
As far as you are interested in a larger coach for booking from 8Rental, we can suggest having a glance at Mercedes Tourismo. The latter is a real giant, yet it looks just stunning. The gorgeous exterior design, the luxury cabin, and the long series of amenities it is equipped with make the model a perfect choice for driving up to sixty-five people. Your tourists will be amazed at the comfort level the coaches provide. Besides the toilet, small kitchen, air conditioning, and a premium audio system with CD and DVD, there are many other highly significant features. Hire a bus in Stuttgart if you value the comfort driving of your tourists.
Explore the magic of Stuttgart
Stuttgart is a beautiful German city inhabited by around 600 000 people. On an annual basis, it welcomes hundreds of thousands of travelers both local and international. There is so much to see and feel here, in Stuttgart. 8Rental suggests visiting the Mercedes-Benz Musem, Staatgaleris Stuttgart, Württembergisches Landesmuseum (historical art museum), Wilhelmspalais, Fernsehturm Stuttgart, Domkirche St. Eberhard, and so forth.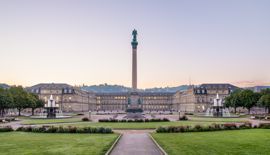 Skillful chauffeurs
When booking a bus from 8Rental, you needn't worry about hiring a driver separately as 8Rental always provides a driver with its bus. All these chauffeurs have respective driving licenses, while the long years of practice in the industry make them unconditionally trustworthy. They know all the roads in Stuttgart too well to take the wrong direction. With them, you and your passengers are in complete safety.
The reputation you can count on
Thousands of travelers around the world have dealt with 8Rental bus rental suppliers since its foundation. Most of them still choose our services whenever they need to book a bus in a foreign city in Stuttgart. We have earned our reputation and their belief in us due to our fantastic seasoned drivers, flexible and transparent pricing system, freebies including free fuel, and, undoubtedly, a vast, impressive fleet of buses. If you consider "the majority is always right" then there is absolutely no point in hesitating. Just stretch your hand and rent a chauffeured coach in Stuttgart from 8Rental. However, if you still doubt, we offer to have a look at the following points that will help you have a better image of what bus rental service 8Rental is.