Minibus hire in Stuttgart, Rent a Van with driver
Booking a minibus from a respectable van rental service has so many advantages! First, you already know there are numerous people relying on that particular van supplier. And then, known services do never cheat - the risk of losing their good reputation is high. Accordingly, once you are in Stuttgart or any other European city, it will be wise to find a van rental approved by thousands of people worldwide. 8Rental is right that type of a service. It can become your true "harbor" wherever you travel in Europe.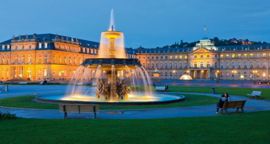 Choosing 8Rental as Your Van Supplier in Stuttgart
Are you heading to Stuttgart with your friends to spend an unforgettable weekend? Are you planning to spend the evenings in local bars at a glass of cool German beer? Then what you should do the first, is hiring a van with a reliable driver who can take you wherever needed safe and sound.
Relying on a Car Rental in Europe
8Rental offers the best conditions of hiring vehicles in Germany. Rent a minivan with driver in Stuttgart to experience some of the most interesting and funny days of your life! So, here are what you will get by entrusting your transportation in Stuttgart to 8Rental.
1. Wonderful fleet of minibuses
Some of the most convenient minivans form the fleet of 8Rental. Depending on how many of you will be traveling in the vehicle, you can book a Mercedes Viano, Mercedes V class, a Mercedes Sprinter or Mercedes Sprinter VIP. The first two models are relatively smaller and can drive only up to eight passengers. The other two ones, meanwhile, are more capacious and will accommodate up to twenty-four people. Hence, you can freely gather with all your friends and organize an unforgettable vacation in Stuttgart!

8Rental's vehicles are equipped with a line of most urgent amenities such as premium safety system, air conditioning, central heating, an advanced audio system, air suspension, curtains, etc. Yet, if you need some extras in the van such as a TV, a fridge or any other luxury, just let us know.
2. Responsible chauffeurs
A staff of professional drivers is what you can expect to meet when dealing with 8Rental. These are real professionals devoted to their job. They are licensed, experienced, and dependable. All of them are perfectly aware of the city's roads and will take the necessary direction the moment you tell the address. Once you hire a chauffeur-driven van in Stuttgart from 8Rental, you can choose the driver who speaks your native language. We have not only German-speaking but also English, French, Italian, Russian, Spanish speaking chauffeurs.
3. Free extras
8Rental is glad to inform all its clients that there are some extras we provide for free. For instance, regardless the length of your tour, the fuel will be provided for free, just as the insurance. You are not responsible for any taxes or fees. Our clients can order the chauffeur and vehicle they book to meet them right at the airport or the railway station. All that we do, is for our customers!
Stuttgart for Visiting With Friends
Stuttgart is one of the most popular German cities that annually welcomes numerous tourists from all around the world. This city has so many attractions you simply can't miss. Hence, the moment you arrive in Stuttgart, rent a chauffeur driven minivan with driver in Stuttgart and tell the chauffeur to take all of you to Mercedes-Benz or Porsche Museum, Cmt Urlaubsmesse Auf Der Messe in Stuttgart, Teehaus Weissenburg Park, or other remarkable destinations.
However, visiting this city with your friends and passing by the best restaurants and bars is unforgivable. Some of the most known eat or drink establishments include Sausalitos Stuttgart, John-Cranko-Lounge, Blinde Kuh, Bernstein Bar Restauration, Billardsaal, Denoar Stuttgart. Knowing you have a reliable driver waiting just outside the bar in a comfortable van, you and your friends can enjoy your time!