Car hire with driver in Stuttgart
Making a journey to Stuttgart and need a means of personal transport you can depend on? 8Rental is at your disposal. We have great expertise in driving people in diverse German cities including Stuttgart, too. Therefore, a memorable tour in this city, as well as a comfortable driving experience, are what you can expect when dealing with 8Rental.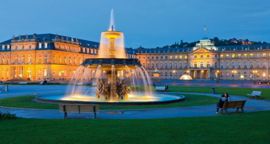 Our car rental service with driver has earned a positive reputation in the industry due to proving what it claims. Making it a priority to achieve a high customer satisfaction level, we have created a fleet of the most diverse vehicles all in excellent condition, collected a staff of seasoned drivers and cs operators, as well as established a transparent pricing system.
Hire a car with driver in Stuttgart and get to know what it means to cooperate with a really credible private car and driver supplier.
The perfect car service for you in Stuttgart
Counting on a couple of aspects, such as your budget and requirements, you can book the perfect private car for you. We offer diverse cars with drivers in Stuttgart on a profitable basis. Standard private cars are designed for strolling in Stuttgart, exploring the city's sights and not getting tired of waiting for public transport or spending all your money on taxes. In this range of cars, you can find such models as Toyota Camry, Skoda Octavia, etc. All these private cars are well-equipped and will drive you along Stuttgart's roads smoothly and quickly.
What concerns more presentable cars, 8Rental has many of them. In case you are here at a business meeting and want to make an impression on your possible business partners, it will be great to rent a BMW 5 or an Audi A6. Featuring a line of premium amenities, including an advanced safety system, leather upholstery, gorgeous exterior, audio system, and others, these and similar models guarantee you will adore every minute spent in the car. All that you need to check this out is to hire a car from 8Rental right away.
Private car drivers you can trust in Stuttgart
Booking a car with driver from 8Rental, you will be provided with professional drivers. All chauffeurs working for our service are licensed and experienced. They will deliver you to your destination in a quick and safe manner. You can trust them for your safety as they are real experts in their job.
By choosing 8Rental, you get the chance to choose your driver. We have specialists speaking as German, so English, French, Italian, and other languages. We have done everything to make your communication with the driver as productive and pleasant as it is generally possible.

Be met at the Airport
When booking a chauffered car from 8Rental beforehand, we can meet you right at Stuttgart Airport. Your booked car and driver will wait for you at any destination in Stuttgart you mention.


Stuttgart fascinates having a private driver
Stuttgart is an admirable destination for culture fans. The philharmonic house, the opera house and a number of other establishments will welcome you warmly. Yet, if you adore automobiles, you are sure to love visiting the so popular Mercedes-Benz Museum and Porsche Museum.
At Palace Square, you can spend the evening admiring the fountains and the picturesque surroundings just as in Koeningstrasse. Other wonderful sights are Sepulcral, Chapel, Schloss Solitude, Fueuerseeplatz, Neues Schloss, Galeteabrunnen and others.
All-inclusive offer

By getting a quote and hiring a private driver, you will get an accurate price with no hidden fees. We are in charge of all taxes, as well. Besides, we shall provide you with free-of-charge fuel. Just get in touch with us whenever convenient for you (we are available 24/7) and rent a chauffeur-driven car in Stuttgart.
Turn your journey in Stuttgart into an incredibly pleasant and memorable experience. We shall make this possible, just entrust us and rent a car with driver in Stuttgart from 8Rental.