Coach hire in Graz, Rent a bus with driver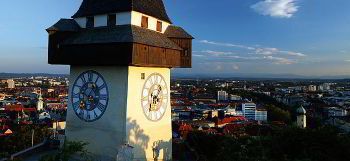 Responsible approach, polite service, sensible pricing, premium vehicles and skilled drivers. These are the aspects a dependable car rental service ought to provide its clients with. And these are the points European 8Rental service is on for! Successfully operating in the industry for several years, this car and driver supplier has gained the fame of a service one can rely on whenever needed. Here at 8Rental, we strive to exceed our clients' expectations by delivering premier services!
Reasons to Rent a Chauffeured Bus in Graz at 8Rental
Cost effective: With the low rates 8Rental coach rental with driver in Graz provides, any trip will practically pay for itself if you pool gas money! Opting for a bus with an accomplished driver for a large group of travelers becomes a great choice especially with the rental prices of 8Rental! We are in charge of the fuel used.
Convenience: Most commonly, a rental coach in Graz is needed when organizing tours in the city, or for taking teams to a game, field trip, church event, festival, group activity or any other major event. It definitely makes sense to hire bus in Graz with a qualified driver and travel together to upgrade the traveling experience! With our equipped coaches, convenience is what you will never worry about!
Space: Whether you are traveling with a group of one or several dozens of people, 8Rental definitely has a competent means of transportation for you! In our spacious buses, there will be enough space for all of your guests!
Skilled drivers: Entrusting your life to an unknown driver may arise worries while entrusting several dozens of lives to an unknown driver is even scarier. However, with 8Rental there is practically nothing to bother about. Only professional and responsible drivers are employed by the service. They all feature driving licenses and recommendations from their previous employers. We offer English, Dutch and French speaking chauffeurs who are always sober, polite and credible.
Rich Fleet
8Rental prides itself on supplying its customers with a wide choice of coaches in excellent condition. Depending on your needs, hire the chauffeur- driven coach in Graz that will satisfy your requirements. Our luxury Mercedes Tourismo VIP is intended for unique guests who love combining luxury and comfort when traveling. Elegant and capacious, comfortable and safe, as well as armed with such amenities as lux aircraft-style seats, soft armrests, belts, illuminated tables facing the seats, toilet, little kitchen, coffee machine, and refrigerator, etc. This coach features everything necessary for traveling with a chic!
However, if your group is not so large, a Mercedes Sprinter is an alternative yet not less premium variant to book. Our buses and minibuses come with excellent specifications to help you get the most out of your journey in Graz!
Graz Sights Your Shouldn't Miss
Graz is considered to be first inhabited late in 800 AD. Today, this beguiling city is proudly presented to tourists' admiration. Anyway, if the city's history is what attracts your group most of all, you are welcome to the Natural History Museum. Hire a bus with a profy driver and tell him to deliver you to Joanneumsviertel road, 8010 Graz. Particularly here you will see large collections of artifacts relating to zoology, geology, botany, as well as get acquainted with the history of the region. Other destinations you shouldn't miss include Graz's Late Gothic St. Gile's Cathedral, Schlossberg and the Clock Tower, Schloss Eggenberg, Municipal Park and Botanical Gardens, Murinsel. There are historical sights in any direction you look at! The popular bus rental with driver in Graz 8Rental suggests booking a bus and moving from one sight in Graz to another in great comfort.
So, if you are traveling in Graz and need to hire a bus, 8Rental is your best companion! Get a quote to rent a chauffeured coach in Graz to experience really quality service! Booking a bus is nowhere else as profitable as here.