Coach hire in Milan, Rent a Bus with driver
To have a great time during visiting some of European cities especially such gorgeous as Milan is always better hiring a bus.
Using tour bus to have the best excursion
Bus excursions around Milan - an excellent opportunity to get acquainted with the most interesting places of the city, avoiding the tedious waiting in the queues, blocking the entrance to popular tourist attractions like the monastery of Santa Maria delle Grazie. Therefore, for those who want to make the first impression of Milan through familiarity with its iconic cultural and historical objects, it is recommended to become one of the passengers of tourist buses.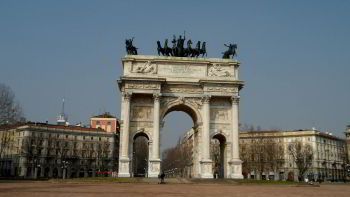 High-level transportation service for excellent trip
Every tourist traveling abroad dreams of having a good time and seeing as many interesting places and attractions as possible. All this is quite possible with a service for transporting passengers on convenient, modern buses. In this service, there are only experienced people who have been providing their services for many years at a high level and never upsetting their clients. In the case of traveling in large groups, each can order a modern bus, where will be everything visitors need for a wonderful trip.
Milan journey is better on comfortable bus with driver
First, client needs to book a vehicle with a driver and then he does not have to worry about anything anymore. This service will do its best to make every client feel how comfortable and productive it is possible to spend time in Milan using this service. Service's drivers have considerable experience in this area and know every little part of the city, they will help tourists to get unforgettable impressions and have time to see everything that were planned.
Modern and reliable vehicle for big tourist groups
The service provides comfortable buses, where everyone can relax and have lunch during an excursion around the city, listen to music, watch TV or even get some sleep.

The buses have everything to make a trip around Milan comfortable and relaxing. The buses are equipped with comfortable safe seats, made of quality materials, there are tables for convenient eating, radio, TV, refrigerator, toilet. In the summer, passengers will not feel heat, and during cool days it will not be cold, as buses have air conditioning and heating. The salon has a very stylish, modern design, inside is always clean and everything looks like new. In the buses of this company it will be doubly pleasant to explore the surroundings of the wonderful Milan.
Coach driver will be reliable guide during trip through Milan
Service drivers know the city better than anyone and their experience ensures that tourists will spend time in Milan as they always dreamed and will be able to see a lot of attractions and visit all planned places of the city. Each of the drivers of the service can provide a driver's license. None of them has a bad habits or any diseases that can harm passengers. In addition, all drivers are very pleasant and sociable people, they can always help the passengers and tell them where to go or what place to visit. They know several international languages, so the tourists will not be inconvenienced by the language barrier. Ordering a bus with a driver in Milan will turn an ordinary excursion into an incredible journey!