Charter bus hire in Milan
Many people choose to go to the city of Milan each year, as it's a fashion hotspot and has many cultural and tourist-based locations to visit. When travelling to any large city, it's important to ensure you have your transport options planned out, especially if you are travelling in a large group.
Bus rental Milan
Bus rental in Milan is one option to consider if you are travelling with a big group and is usually more cost-effective this way. Renting a bus in Milan means that travellers don't have to worry about getting around the city, as using a charter bus in Milan means you can be picked up at your location and dropped off at your destination in a quick, easy and stylish manner.
Choose 8rental for your Milan bus hire
8Rental is a great company to use when using coach hire in Milan - we have 24/7 operator support for all your transport needs, and our drivers are friendly and professional, with a great knowledge of the city. Using 8rental means you will not need to stress about traversing the city, adding convenience and ease to your visit. If you're considering a trip to Milan soon, why not check out our bus rental services?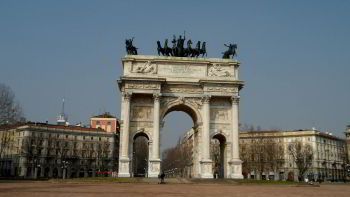 Traveling by bus in Milan - an excellent opportunity to get acquainted with the most exciting places of the city, avoiding the tedious waiting in the queues, blocking the entrance to popular tourist attractions like the monastery of Santa Maria Delle Grazie. Therefore, for those who want to make the first impression of Milan through familiarity with its iconic cultural and historical objects, it is recommended to become one of the passengers of tourist buses.
High-level transportation service for an excellent trip
Every tourist traveling abroad dreams of having a good time and seeing as many interesting places and attractions as possible. All this is entirely possible with a service for transporting passengers on comfortable, modern buses. In the case of traveling in large groups, each can order a modern bus, where will be everything visitors need for a beautiful trip.
Milan journey is better on a comfortable bus with driver
First, the client needs to book a coach with a driver, and then he does not have to worry about anything anymore. Bus service will do its best to make every client feel how comfortable and productive it is possible to spend time in Milan. Drivers have considerable experience in this area and know every little part of the city; they will help tourists to get unforgettable impressions and have time to see everything that was planned.
A modern and reliable vehicle for big tourist groups

The buses have everything to make a trip around Milan comfortable and relaxing. The coaches are equipped with comfortable, safe seats, made of quality materials; there are tables for convenient eating, radio, TV, refrigerator, toilet. In the summer, passengers will not feel the heat, and during chilly days it will not be cold, as buses have air conditioning and heating. The salon has a very stylish, modern design, inside is always clean, and everything looks new. In the coaches of this company, it will be doubly pleased to explore the surroundings of the beautiful Milan.
Coach with driver will be a reliable transportation solution during the trip through Milan
Drivers know Milan better than anyone. Ordering a bus with a driver in Milan will turn an ordinary excursion into an incredible journey.