Minibus hire in Milan, Rent a Van with driver
We provide a minibus rent with driver in Milan. We ensure to offer a comfy transportation at affordable rates all over Italy. Renting a minibus with us, you become the proud benefactor of a wonderful and unforgettable holiday experience! Our town minibus drivers are trained, experienced, English speaking experts who are 100% familiar with Milan and areas around it. No matter the airport you arrive at, whether it's Malpensa, Linate or Bergamo, our welcoming drivers can meet you there and take you to wherever you love to go. With our professional car service, you can drive to anywhere in Milan in a peace of mind and comfort. Whether you're looking for culture, cuisine, entertainment, or some other great things of Milan, our professional minibus rent service will be more than ready to make it fun and easier for you.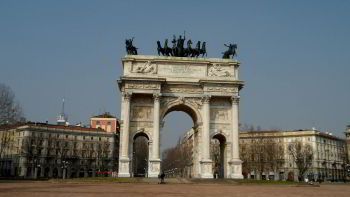 Minibus in Milan- interior and exterior
Our minibus rental service provides great combinations of elegance. Our sweet looking minibus will make you feel comfortable. The well coordinated and compilation of the finest leather ergonomic seats will perfectly fit your body. Also, the extra pleasure conditions of our Minibus such as wifi, TV, e.t.c, are few of the numerous reasons to rent a minibus with driver Milan.
Minibus rental with driver in Milan: chauffeurs' documents
In Milan and every other place, driving license is a must-have. We have one. Our drivers are local people with a wide experience of Milan and its roads.

Chauffeured minibus rental in Milan
Milan is one of the most cosmopolitan cities in Italy featuring different attractions like the pareks of Milan and great mountains. Milan is a paradise for football, great shopping, opera, bars, clubs and unrivaled nightlife. .You can spend great lunching time on the scintillating pizza and pasta, marveling in the historical museums and art galleries. All these pleasures await you when you visit Milan. To top it up, you can jump off from one rustic town to another city. Milan has over 2.7 million residences, receiving 6 to 8 million tourists every year.
Standard class minibus rental with driver
We offer a standard economy class minibus hire with driver in Milan-perfect option! European style minibus in the best condition and super soft high spacious headroom where you can comfortably carry the tallest passenger. Our bus also has comfortable seats and exceptional dynamics.
Business, executive minibus rental in Milan
Coming to Milan for business? Our intelligent local chauffeur will drive from Linate or Bergamo airports to your destination.
Request for a quote
No matter the direction of your road, minibus rental with driver in Milan is got your back. Feel free to ask us questions!! Looking for a trip price? Request a quote with us and we'll get back to you on time.