Charter bus hire in Stockholm
Traveling by modern bus of this service, tourists do not need to worry about the rest and the place where they can have a snack. Thanks to the amenities in the bus, each traveler can relax by stretching out on a comfortable armchair, using the bus's fridge, cooking something in the kitchen, and eating sitting on the recliner with the help of a table built into the back of the seat, there is also a toilet in the cabin of the coach. In a word, traveling having bus rental in Stockholm is a real pleasure for every tourist. Safe and comfortable transportation of passengers up to 65 people - rent a large bus for a better trip in Stockholm.
Travel all over Stockholm on a hired bus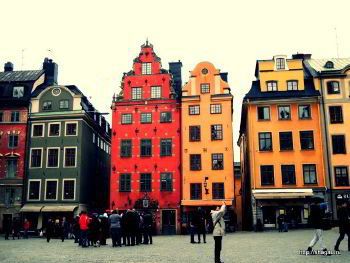 There is no better idea for a large group of tourists than renting a bus in Stockholm with all amenities for passengers. The most reliable service 8rental.com has in the garage of its company only modern, safe and dependable buses. Traveling with this company any tourist will feel very comfortable, and most importantly safe.
First of all, each should visit the company's website and rent favorite bus, after which client can not worry about anything going on a trip to Stockholm, as the rest is the company's responsibility for renting modern buses
Reliable bus rental for perfect Stockholm voyage
The capital of Sweden Stockholm is the most exciting and attractive city of Scandinavia, having a lot of places and unusual sights. The unique atmosphere of this city, its beauty, and its characteristic color are fantastic. It's no wonder that Stockholm attracts a lot of tourists and travelers from all over the world who come here specially to feel the particular mood of this city and recharge it with positive energy.
Every year, hundreds of thousands of tourists visit Stockholm, which is not surprising - this beautiful Scandinavian city has prepared many surprises for visitors.
Stockholm sightseeing with a charter coach for a perfect trip
It is primarily the sights of Stockholm, including historical and architectural monuments, as well as a large selection of museums for adults and children. These are lovely excursions, green parks, luxurious fashion boutiques, and tantalizing cafes and restaurants.
Unbelievable Stockholm voyage with the most reliable coach hire

The main sights of Stockholm:
The Royal Palace, which houses several museums and a treasury;
Knight's castle, decorated with unique statues;
the town hall of Stadshyuset, in which Nobel Prize laureates annually gather for a dinner party;
Drottningholm Palace, home to the royal family;
St. Nicholas Church, where a large number of ancient works of art are stored;
fantastic museum of the ship "Vasa";
the National Museum.
Hire a bus with driver in Stockholm for the best journey
A reliable and punctual driver sits behind the wheel of each of the buses of this company. He will safely and quickly transport any number of passengers to any distance. The primary qualities of the employees of this company are honesty, punctuality, compulsion, intelligence, and courtesy.