Charter bus hire in Valencia
For having your foreign guests enjoy their time in Valencia, you need to make a good plan of what they should see. The tourist sights you take them to should include as places of historical significance, so top-end restaurants, and entertainment facilities.
For providing each of your tourists with comfortable transportation, you need to hire a coach with a driver in Valencia. Only a big bus can accommodate around sixty people comfortably and drive them safely wherever it's needed. Our buses have such essential specs as central heating, air conditioning, air suspension, reading lights, comfortable seats with belts and armrests, coffee machines, etc. Bus rental service in Valencia from 8rental is guaranteeing your tourists with all that they may need in transportation means. 8Rental can even equip the bus you book with a TV, if necessary. On the official website of 8Rental, you will find a Mercedes Sprinter (VIP variant is optional) and a couple of other similar buses for transporting around two dozens of passengers, as well as a Mercedes Tourismo (VIP model is optional) and other similar large buses to drive as many as sixty-five people at once. Nevertheless, in case you doubt whether the demonstrated coaches will meet your requirements, feel free to contact our CS operator. He will find and offer the best variant for you! 
The driver of a Bus rental in Valencia
A grandiose bus with a professional driver behind the wheel is a pledge for safe driving in Valencia! Rent a chauffeur-driven coach on the most favorable conditions only from the most reliable coach hire in Valencia and Spain. Our employees aren't merely drivers with driving licenses, but true specialists who have years of practice and a determination to make every client stay satisfied with 8Rental's services! You can hire as Spanish speaking chauffeurs so those who master French, Dutch or English. Depending on the nationality of tourists you are going to welcome in Valencia, select the proper driver! 
The Best Coaches
Valencia is one of Spain's and why not, entire Europe's pearl that amazes with its beautiful architecture, warm atmosphere, and fantastic entertainment facilities. This city can become a perfect destination as for wealthy tourists who agree only to the best and most luxurious, so for those who want to explore Valencia on foot by strolling along the city's roads and admiring free-of-charge places of interest. Tourists visit this city all year around. Organizing a tour for tourists is a highly profitable job. Once you undertake a project of welcoming guests from abroad and arrange everything correctly, you will benefit a lot!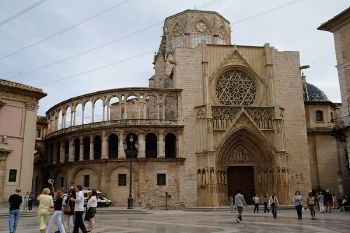 So, if you are already involved in such a job, make sure your tourists will have a reliable means of transportation in the city. 8Rental offers its reliable services to make your tourists enjoy their moving around the city sights. Here are what you will get by choosing 8Rental as the supplier of coaches.
Three Days of Valencia for Your Guests by charter bus rental
The most reliable bus rental with driver in Valencia and Spain offers to explore the city in only three days! Devote one day to sightseeing. On the second day, take directions to Parque Natural de la Albufera and Playa de La Malvarossa. Here your travelers will rest after the full first day of traveling. And the third day should be devoted to exploring the flora and fauna of Valencia.
8Rental is the destination you can trust every time you need a roomy bus to accommodate plenty of passengers. Here you will get free fuel, passenger health insurance, discounts, and some other amenities you are sure to appreciate! Call us at any hour it's convenient for you, as we are online 24/7.