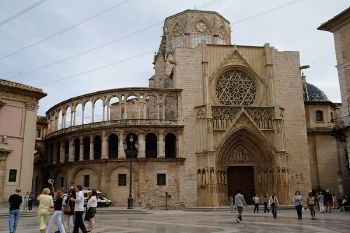 Some people say traveling with a family is a difficult task you are not likely to enjoy. However, those who plan their vacations with kids carefully, state this is an experience they will cherish forever. Though you come back with kids exhausted, your entire family becomes more united, wiser, and, why not, more tanned. Several rules are adhering to which, you can escape the mere inconvenience of traveling in Valencia with a family - being exhausted. First, pack light. You needn't take all the clothes your kids have. Just make two changes and the necessary toiletries.
The next and perhaps the most important advice is to hire a minibus with a driver in Valencia to provide the comfort your kids need so much while being abroad. With 8Rental minibus rental in Valencia, your journeys in any Valencia street will be a mere pleasure. Just imagine, your entire family visiting new places, learning new things and not getting tired at all. Filling out a quote from 8Rental now, you will profit once you arrive in Valencia. Don't leave it to tomorrow, but get the quote right at this moment.
Reliable minibus chauffeurs
Chauffeured van rental in Valencia by 8rental offers exceptionally stable drivers who demonstrate a professional approach to every order and every client. Whenever you rent a minibus in Valencia,  a trustworthy specialist will drive you along the city's roads in complete safety. By the way, besides having active practice in the sphere, as well as a driving license, our drivers are also knowledgeable. We have not only local drivers who speak only Spanish but even those who master the Dutch, French and English languages. Who do you prefer? Remember to mention this aspect when filling out the quote.
Convenient conditions for modern vans rental in Valencia
All the vans included in the fleet of 8Rental are in excellent condition, equipped with all those specs that will make your kids and entire family relax on the road till you get to your next tourist sight.
For a smaller family, a comfy Mercedes Viano can be the right choice. It can accommodate up to eight passengers and drive them in complete comfort along the city's streets. And if you are planning to travel with around twenty people, then you should probably consider hiring a Mercedes Sprinter or some other similar model. The latter comes with such specs as air conditioner, soft and firm seatbelts, armrests, central heating (in case you're traveling during a cold season), and plenty of other useful ones.

Exlore magnificent Valencia
Valencia is a magnificent city to travel and explore with your spouse and kids. This Spanish city is vibrant with museums and other landmarks, yet your kids will hardly want to spend their time visiting them. Instead, Valencia can offer a fabulous beach to swim, play beach football and enjoy the warm sun. Playa de la Malvarrosa is famous for its golden sands and warm waters. It's a theatrical destination for family travelers. Anyway, there are also many other unusual directions to take with your family and spend a fantastic time.
At Oceanografic Aquarium, your kids can see over forty-five thousand sea animals including diverse fish species so some unique ones such as sea lions, sharks, jellyfish, walruses, etc. The Biopark Valencia, meanwhile, offers to get a closer look at wild animals: lions, gorillas, elephants, monkeys, lemurs, and other animals are waiting to amaze your kids.
Freebies
8Rental is never greedy toward its clients. That's why it provides all of them with a series of extras. Free fuel and health insurance for accident cases are only a small part of what you will get by booking a minibus and a chauffeur for your family in Valencia. Besides, when you hire a minibus, you can order it with a TV or a DVD with a screen.