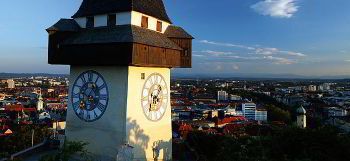 Graz has become a famous stopover for millions of tourists in recent years. Austria's second largest city owes its popularity to its historical buildings, local coloring, and unique charm. Once you become a visitor of this magnificent city, you will be fascinated with the Landhaus and Courtyard, the pedestrian-friendly Old Town, Graz Cathedral and Mausoleum, as well as the Styrian Armoury. Memorable tours in this city are guaranteed!
8Rental is known as one of the best car rentals with a driver in Graz and our service's drivers know well what are tourists' preferences, hence they try to offer unforgettable pastime. Our company offers the best professional, knowledgeable drivers, top of the range vehicles, trustworthy and luxury service leading to a tailor-made experience to meet your requirements! Get a quote, hire a car with a chauffeur and take the most out of your stay in Graz.
Advantages of Booking a Chauffeured Car in Graz
Unique customer service
Renting a chauffeur driven vehicle will make all the difference to one's journey, no matter whether it's a business trip, an airport transfer or just for pleasure. At 8Rental chauffeur service in Graz, we realize how important it is to deliver a dependable, prompt and welcoming experience for every client. 8Rental offers all vacationers who choose Graz as their destination to indulge a little luxury. Once you rent a car with a driver from our service, be sure you'll come for more next time! Graz promises to allure visitors with its exceptional beauty and 8Rental guarantees to fascinate with the high level of service it provides!
Having a luxury car with a skillful driver at your disposal in Graz has a series of advantages. No matter whether you must be picked up from a specific address or greeted right at the airport, 8Rental will help your worries disappear when traveling in an unknown city. You no longer have to wait for taxis at Graz airport or ask foreigners (who, by the way, may not speak your language) to a direction. Hire a car with driver in Graz and have more time to relax or even catch up on some work in your own luxury car.
Premium Car Models to Anyone's Choice
8Rental offers as luxury car models to those intended clients with smaller budgets but yet on excellent conditions. Here you will get the most suitable car that fits both your budget and comfort. If you want to experience luxury transportation around the city, why not considering to hire an Audi A8 or BMW 7 with a driver? An extravagant Mercedes S-Class will also stand for your royal transportation! These car interiors are made of most expensive materials and all other built amenities only raise their worth. Renting one of these luxury vehicles you are guaranteed to relish your entire trip from the first minute! The automatic climate control (dual-zone), natural leather upholstery, wooden trimming, fixed audio system and a series of other features will make you want to book it again.
Qualified Drivers of 8Rental
The knowledgeable drivers of 8Rental speak Dutch, French, and English. Once you book a chauffeur driven car in Graz, order a driver who speaks your native language. Each driver employed by 8Rental has a valid driving license and years of experience in passenger transportation. Your hired driver will drive you to the stated destination as quickly as possible so that you don't miss an important meeting. He may also drive you in the city just for leisure. All depends on your wishes! Our drivers are always polite and professional. If you are intolerant towards smoking, book a not smoking driver. With the most reliable chauffeur and car supplier in Graz, you can experience the ultimate in comfort, luxury, and convenience of your journey. Free fuel, passenger insurance, and refund are included in the costs!
Consider Graz as Austria's Remarkable Tourist Stopover! 8Rental rental - Your Best Choice!