Car rental with driver in Katowice
8Rental is a passenger transportation supplier that offers reliable car rental with driver in Katowice for customers. Car service – perfect opportunity to plan your trip beforehand. Travelers, for sure, will be interested in trips to nearby places Gliwice, Raciborz, Sosnowiec, Zabrze, where you can admire the mountains & castles. Numerous festivals: theater, blues & metal-style, cinematographic & folklore that take place in Katowice from spring to autumn. All kinds of exhibitions & concerts are held here year-round, so it's challenging to call Katowice dull. Become a visitor of his magic, the old &amazing city is comfortable with car hire with driver in Katowice.
8Rental's car hire fleet to hire with driver
Standard car service proposal in Katowice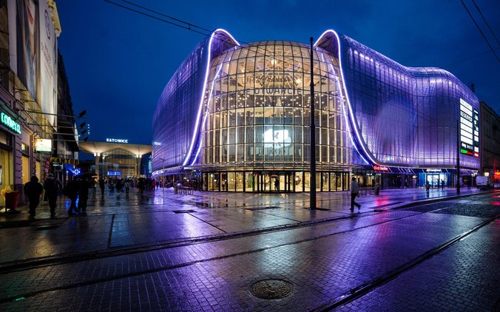 8Rental's cars with drivers are the latest modern cars, which are equipped with advanced technologies. Passengers will appreciate transportation conditions because every chauffeured driven car is checked before picking up new clients. Rent a standard car and driver with 8Rental's drivers & forget about all worries.
Business or first-class private driver proposal
Business partners often visit different cities for work. Hire a business or first-class car with driver & get luxury transportation conditions, as inside are installed high-tech elements.
Book desired private car type with the 8Rental company & receive:
Perfect transportation conditions 
Great chauffeur service with chosen car type ( car, bus, minivan, minibus)
Total price is containing: toll roads & highways, VAT, petrol/fuel.
Russian, French, Dutch or English driver's language
Long-term or short-term transportation 
How to hire the desired car with driver
Apply for 8Rental's quotation form
Write down the requirements for the trip & personal details
Wait for a confirmation letter & pay booked offer
What to see in Katowice renting a car with driver
Katowice - Poland Upper Silesian city founded in the crowded stormy disasters XIX century & is much older than its official age.
30 km south of Katowice is located worldwide known notorious Auschwitz. Since visiting this sad place leaves a powerful & depressing impression, do not bring children with you. Katowice itself, despite its modernity & industrialist orientation, is an exciting city. Blessed Virgin Mary church, made in the new Gothic style, the Christ Savior Cathedral in the baroque style & the wooden holy Archangel Michael church are beautiful architectural examples of the past centuries. Of modern attractions can be distinguished sports & entertainment center "Spodek." The city has many museums: archaeological, h historical, a museum of antique interiors & even an excellent planetarium & observatory - especially famous for children.
8Rental's private chauffeur regulations
Every member of 8Rental's staff is very educated, trained & professional in the transportation domain. Chauffeurs & drivers are checked out on driver license, as this document is a must for people who ride a car.