If you want to hire a vehicle with a driver in a few minutes, then apply for an offer to hire any vehicle with a driver from the 8Rental supplier. 8Rental operates in the passenger's transportation industry, which is under fast development & has many thankful customers every day. For a wonderful exploration of the city of Katowice you just need to send us a quote and fill out all the necessary requirements. Take a chance and entrust your trip to us!
Advantages for using our rental service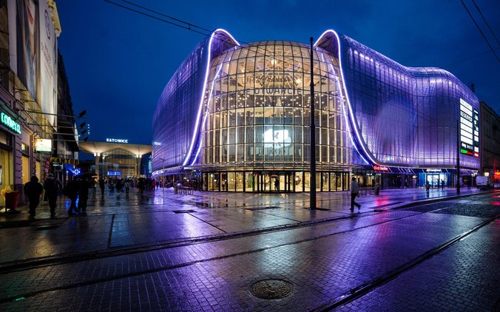 Wonderful transportation conditions by 8Rental's chauffeurs;
Total price included in the offer for highways & toll roads, petrol/fuel, taxation;
Chauffeur language by choice: English, Russian, French or Dutch;
Different vehicle class & type: standard/business car, minibus or bus hire with driver.
Here are the steps for booking a chauffeured driven minibus:
Notice 8Rental's quotation
Write personal & trip desires
Confirm proposal via payment
Hire minibus with a driver in Katowice or chauffeur rental hire service
The moment we stopped measuring customer interaction in terms of profitability in favor of establishing emotional connections with no tangible net present value, that is when we began to see the long-term sustainability of our company. Loyalty only manifests itself when a customer sustains an emotional connection with our business. People want to engage with the company they do business with on their terms. We are not like most companies, which have been slow to respond to this fundamental shift in the customer-company relationship. As a conclusion, we come up with the reality that only the companies that make customer experiences as smart as the products and services they support will hold an advantage over their more reactionary competitors. Taking into consideration the above-mentioned principles, we positioned ourselves on the top of all other rentals in the city and in the whole area even.
Katowice - a Polish Upper Silesian city founded in the crowded stormy XIX century disasters, which was called also the Silesian province capital. Katowice has many places where tourists are able to enchant themselves with real masterpieces of the national cuisine. Decorated in traditional rural style, Marysin Dwór & equally demonstrative provincial Karcma pod Strzechom have constant popularity. For other international food lovers, there is the Chinese Restauracja a Dong and local fans of Italian cuisine will recommend to tourists a trattoria La Grotta. A retrospective look at the past is offered by historical, archaeological museums, a museum of antique interiors & a modern observatory & planetarium. The magnificent examples of the past centuries architecture are also attractive, such as the wooden church & the Cathedral of Christ the Savior of baroque style. From the whole spectrum of excursions offered in Katowice, it is necessary to highlight a trip to the memorial concentration camp of Auschwitz. Excursions are allowed only by organized groups. Taking into account the psycho-traumatic impressions accompanying this excursion route, the participation of children is strictly not recommended.
Build your lifetime memories by using the services of a chauffeured minibus
Hire standard minibus with driver
Standard chauffeured minibus is designed for a small group of people (from 8 to 12). It has spacious saloon & the installed elements are for passenger's comfort.
Hire business minibus with driver
Business chauffeured minibus is especially proposed for business people. It allows business partners to deal with affairs during the trip.
Drivers' hiring process or how personnel are educated
All documents, such as driver license, certificates & cards are checked before hiring at the 8Rental company. Chauffeurs & drivers are examined in different situations on local & foreign roads. Personnel pass test every year to make a higher qualification level. They are responsible, punctual and reliable. They focus on the road and on our customers' need and requirements. The take their job seriously and do not have any bad habits. Moreover, for a stressless communication, all our drivers speak several international languages. Feel free to ask them whatever you need and be sure you will be answered accordingly!