Coach hire in Katowice, Rent a Bus with driver
8Rental is helping people to achieve their goals, as proposes tourists to hire vehicle with driver in every visited Europe city with affordable price. Every 8Rental's ride is verified & monitored by 8Rental's head office. Hire chauffeured driven vehicle offer & enjoy its benefits: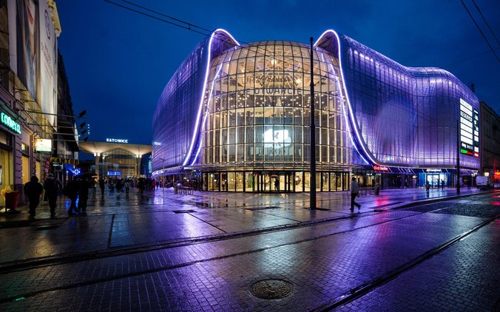 Chauffeured driven coach/minivan/minibus or car
First /business or standard vehicle hire type
French, Russian, Dutch or English speaking driver
Hire chauffeured driven vehicle for an hour or long-term conditions
Coach hire in Katowice with driver or chauffeur rental Katowice hire service
Katowice in Poland is the former capital of Silesia, offering excellent opportunities for cognitive & active recreation. Here tourists can see historical & architectural monuments, visit the most interesting museums, & also become spectators of numerous sports events of international level, which are constantly arranged in Katowice.
Katowice in Poland is a modern dynamic city with a rich cultural life, offering many entertainment & interesting events. In the Katowice center is located the grandiose sports & entertainment complex "Spodek" - one of the largest indoor sports facilities in Europe. On 9 hectares territory is placed a sports center, a skating rink & an arena, which can accommodate more than 11 000 spectators. Spodek hosts major sporting events, exhibitions, theater performances & performances by world celebrities - from Boney M & Deep Purple to Elton John, Tina Turner & Sting. International music festivals Metalmania & Rava Blues are held annually here.
Near city center is located a picturesque park named after Kosciuszko, which is a favorite place for walks of citizens & tourists. In park is placed a historic parachute tower - unique operating tower in Poland.
Those who wish can go to the infamous world-famous Auschwitz, located 30 km from Katowice.
During whole year in Katowice are held various festivals: street art & jazz, theater & film festivals, winter comedy & a holiday of sausages "Kashanka", which is arranged every year on May 28.
Staff regulations & chauffeur verification process
8Rental's team includes many people, so control is established under everyone. Drivers & chauffeurs are checked on driving abilities & driver license.
Standard bus hire with driver
Spacious chauffeured vehicle with big amount of seating places is developed for huge tourist's excursions. Hire chauffeured driven coach & easily gather up to 65 passengers during planned trip or important event.
Business coach chauffeured hire
Business coach hire with driver is equipped with latest technologies that provide high level comfort for passengers. All installed details such as kitchen, toilet, coffee machine or orthopedic seats are very important elements for luxury ride.
Book offer to hire vehicle with driver:
Navigate to 8Rental's quotation form
Fill it with trip & personal desires
Confirm booked proposal with driver through payment method