Odense is the central city of the Funen island, home to the favorite narrator Hans Christian Andersen. Odense is the 3d among the largest cities regarding size. The river on which the Odense stands and the fjord with which the port is connected by a canal also wear the name of Odense. Perhaps the oldest city in Denmark, it was founded in the tenth century, and its name is derived from the name of the god Odin. It is no coincidence that among the central city sights there is one that is called Odin's tower. It was built in the 30s of the last century and competed in height with the Eiffel Tower in Paris. It is worth paying attention to another tower - the remnants of the fortress of the Vikings, which survived in the southern part of the city. These ruins date back to the founding of Odense. The Odense Cathedral was named after St. Knud, and a monument to him in the central square of the city is dedicated to him. In the neighborhood of the memorial of Saint Knud, the monument to Andersen stands on the square, who was born here and spent here his childhood. In the city each can visit the house where the writer lived, the park named after him, to see the heroes of his fairy tales - their sculptures are installed throughout the city. There is a museum on the open air in Odense - "Fün Village," dedicated to the ancient rural architecture and peasant life.
This service allows everyone to get everything from the trip and usefully spend time in the city of Odense. With this company, every tourist will be able to visit all the most popular attractions and to plan their time very productively during their stay in the city. The service provides various means of transportation for different groups of people and multiple purposes of travel. To ensure a great trip, each has to should book a car with a capacity of up to four people and do not have to worry about anything anymore.
Reliable chauffeur service company for an incredible city trip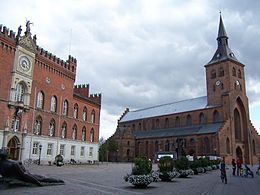 Any customer can order an excellent car with chauffeur to travel around the city for any purpose. For booking vehicles of three classes are available: Standard, Business and First class; cars can comfortably accommodate up to four people. Being in the cabin of one of these cars, every passenger will feel cozy, comfortable and quite safe.
Good-natured driver - great Odense travel
For greater safety and comfort, the service provides the driver which is always ready to work at the highest level providing the best quality service to all customers. Here everyone cannot only safely move on the representative car, but also have time to see all the sights and visit all the planned places. Service drivers work great and never fail their passengers, and they are very responsible, punctual and conscientious.