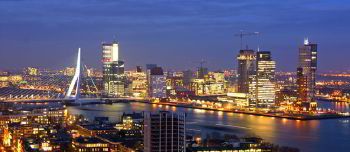 Every tourist is curious about how to hire the best vehicle with a driver while visiting the desired city. 8Rental knows the answer on this question as precisely this supplier provides a perfect proposal to rent a chauffeured driven vehicle. Hired chauffeured vehicle will meet all your expectations, as following positions are included:
Vehicle type by request: car, minivan, minibus & coach hire with driver
Vehicle class hire by request: first, business & standard
Chauffeur's language by application: Russian, French, Dutch & English
Price is containing: taxation, fuel/ petrol & toll roads, highways.
Booking offer for hiring chauffeured driven vehicle
Discover 8Rental's main quotation form
Fill needs & desires confirming personal & trip details
Be proposed acceptable offer from operator & confirm this offer through payment request
Hire a car with a driver in Rotterdam or chauffeur rental hire services
Rotterdam - the second largest city in Netherland & the largest port of Europe, which from 1962 to 2004 was busiest in the world.
Rotterdam is very diverse: a staunch city-port, a fashionable city containing night entertainments, an ingenious shopping city & a modern art city. Moreover, Rotterdam is a Netherland's architecture city, inspiring to introduce various innovations. Its horizon line always changes. Among Rotterdam skyscrapers, tourists can do different exciting things. Visitors can go shopping, enjoy excellent cuisine & visit multiple museums & attractions.
Rotterdam's most famous lively bar area is Eendrachtsplein / Nieuwe Binnenweg. Friendly, easily accessible and a place full of people. It is worth to take a look at the cafe Staples, Parker or Rotown, where rest writers, musicians & students of design schools.
Rotterdam's nightlife is so diverse, each subculture has its corner, where it "breaks away in full." Oude Haven (Old Harbor) is located near the market square Blaak - here rest future lawyers, economists & businesspeople. All cafes & restaurants are located around the bay, which reflects every light & sign - a beautiful sight.
The fleet of vehicles we offer
Chauffeured car hire - standard variant
A chauffeured car is the most practical &often hired vehicle, as it affordable price & great transportation conditions allow tourist is requesting this vehicle. Hire a car with a driver in Rotterdam & discover how many places, sights & locations tourists can visit during the planned trip.
Chauffeured car hire - business variant
Business car hires with driver option is available for all business people, partners or enterprises. Chose first or business car hires with driver & feel luxury comfort while traveling by provided 8Rental's vehicle.
The staff of drivers we hire
8Rental's coworkers' & drivers' organization process
Human Resources department hire people only who has high education & excellent ability skills. Driver license documents that chauffeurs are checked. Personnel, as well as drivers, are very polite and competent in every passenger's transportation question.