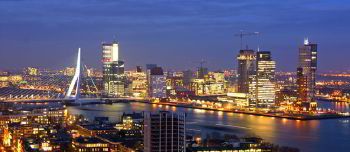 Nowadays, many tourists would like to travel by receiving the highest comfort level. 8Rental passenger's transportation supplier provides such chauffeur services, to ensure passengers receive what they want. Minibus rental with driver & discover opportunities suggested from 8Rental's team & chauffeurs:
Unique price containing paid: toll roads, VAT & fuel/petrol
Vehicle hire type: bus, car & minibus with driver
Class hire: standard, business & first class chauffeured driven vehicle
Chauffeurs' language optional: Russian, Dutch, English & French
Booking option to hire chauffeured vehicle is available for everyone
Navigate to 8Rental'quotation
Fill suggested fields by personal & trip details
Pay proposal received from 8Rental's operator
Rotterdam minibus and chauffeurs rental services
8Rental's chauffeurs are glad to meet passengers at any place & drive to place destination.
In the XIII century city, which is now considered very modern in Holland, was a fishing village. Over time, it turned into a center of industry & commerce, but in 1940 German bombers destroyed the city center & port. However, the unique architecture of Rotterdam attracts many tourists who make bicycle trips around this modern multinational city. Old Dutch-style houses are still preserved in the historic district of Delfshaven, from where, in 1620, pilgrims went on a voyage.
The most famous museums & two most refined museums in the Netherlands, the Boijmans van Beuningen & Kunsthal museums, are located in the Museumpark in Rotterdam. If cultural proposal did not seem convincing to you, however a vast variety of shopping options should surely convince you.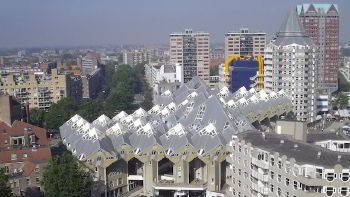 Rotterdam has a lot of things that come to mind about city rest & not only: water sports – 4 large lakes; evening & nightlife - as much as you want (including clubs where all music trends play, shopping for health -2 pedestrian shopping areas & dozen open markets;). Rotterdam Zoo - this is generally popular destinations for a one-day trip to the Netherlands. Rotterdam is most densely packed with migrants: some Muslims here is about 25%. Accordingly, here is much din, sanguine hopes, noise & ambitions & not much traditional European tact.
Private Minibuses options in Rotterdam
Standard class minibus with driver
Vast saloon & comfortable seats allow passengers to feel free & have enough space for everybody. Private minibus & see how perfect it is.
Business class minibus with driver
The luxury designed interior is specially developed for passengers with high demands. Hire luxury minicoach with driver & gather all business partners inside the excellent equipped vehicle.
Personnel & drivers supervising the process
8Rental's team daily show accumulated experience gathered through years of work. Chauffeurs must approve driver license by showing professional skills. Drivers also make much practice on local roads.