Minibus hire in Gdansk, Rent a van with driver
In passenger's transportation field most important is to provide service that passengers expect from chauffeurs. Main target is happy, satisfied & thankful passengers after provided chauffeur service & executed work. Hire minibus in Gdansk with driver to feel all opportunities & advantages proposed by 8Rental supplier.
8Rental offer hire vehicle with driver contains such elements: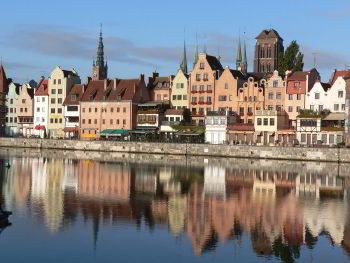 French, English, Dutch or Russian driver's language by request
Unique price containing : petrol/fuel, toll roads & highways, taxation
Vehicle type: car/minibus/bus
Business or standard class of chosen vehicle type
Hire minivan with driver in Gdansk or chauffeur rental hire services in picturesque Gdansk
Gdansk is a major port city on the Baltic Sea, the center of industry, in particular petrochemical & engineering, shipbuilding & ship repair are developed.
As everywhere in tourist areas, the city presents cuisines for every taste. There are pizzerias, Asian restaurants (Yang Guang), Greek (Kreta) & national cuisine (Chatka Dobrego Smaku, Gospoda - Chata Chłopska), many cafes, pastry shops, restaurants & bars. Practically at every step you can sit down & have a cup of coffee with cakes or beer & wine with "cheese" - several types of cheese, fruits & toasted home-made bread. Everything is very tasty & inexpensive: meat dishes will cost you a maximum of 7 EUR, but pies & cakes - at 3 EUR. But you still in the port city! Hence, it is absolutely impossible to dispense without fish dishes. It may cost more (from 10 EUR), be sure to visit the fish restaurant "Tavern".
During city excursion you will see the "Main City". It contains all most important monuments of Gdansk history & culture.
Visit this amazing port city & discover main Poland beauties choosing hire minivan with driver offer.
Personnel hiring process

Each person from staff is verified on documents. Drivers & chauffeurs must have valid driver license , professional level of driving vehicle & pleasant appearance. Strict rules presented in company must follow every worker.
Minivan hire with driver – standard version
Affordable price of standard minivan chauffeured hire is distinctive feature that allows saving funds. 8Rental's competitive chauffeurs make every trip special as provided service level satisfies all passenger's requirements.
Minivan hire with driver – business version

Coming to Gdansk for business affairs, people always hire luxury chauffeured minivan ,as it has much space for all business partners. Every element installed in chauffeured driven business minibus is developed especially for passenger's comfort & high level service.
Can I book hire chauffeured minivan at once? Yes, booking process takes 3 steps:
Find quotation form on 8Rental.com site
Write in all requested details & wait for an email from 8Rental's customer support operator
Pay & confirm chosen proposal