This destination captivates with its lovely streets, amazing historical buildings, and fashionable restaurants where you can taste local so European, Asian, French and other cuisines. Anyway, before planning the tour, why don't you think about the comfortable transportation in the city? 8Rental suggests hiring a minibus in Granada to accommodate all your friends and make the traveling even more exciting and funny. Be sure you won't meet any better offer than the 8Rental minibus company can make.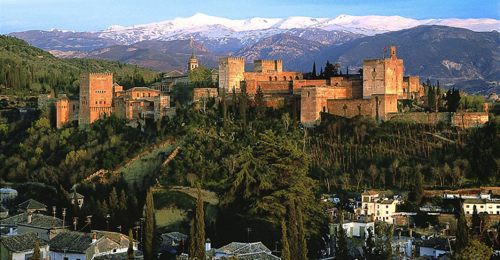 How to find reliable minibus rental in Granada?
To schedule a minibus with driver all that you need is to get a quote and complete it. You will be required to mention the start date and time for the order, as well as its type (single, return, hourly or specified), the pickup address and the destination, and the number of passengers. If you can't determine which minibus to choose, apply with the help of our CS operator. The latter will gladly offer you the best variant based on the number of passengers you will be traveling with, your budget, and the comfort amenities you request. 
The generous offers 8Rental has prepared for all its clients include an eager driver right from Granada, who knows all the roads of the city very well, an elegantly designed and richly equipped minibus, free fuel, motorway and parking fees, medical insurance for all the passengers driving in the van, and the value-added tax.
Discover Granada's main places
The small Andalusian city of Granada served as an inspiration for such gifted artists as Laurie Lee, Federico Garcia Lorca, Washington Irving, and others. It has rich architecture and fabulous entertaining facilities. Surely, at least a week will be required to explore the city, yet even if you have a day, you can still see much here. Van rental in Granada has prepared a brief plan of what directions you should take and what all of you will love to see here. Start traveling from Alhambra. It is the pearl of Granada. Stroll along the entire space, and admire the Royal palaces to get acquainted with the true Moorish history of Spain.
Then tell the chauffeur drive to Generalife and enjoy the heaven-like gardens. Your next destination should be Restaurante Sevilla. Here you will be offered amazingly delicious meals to all of your tastes. After satisfying your hunger, head to Saint Jerome Monastery, Plaza de Toros, Albayzin, Sacromonte, and Science Park. Organizing a tour of Spanish cities with your friends, you can't miss the little but pretty city of Granada. 
Rely on the dependable chauffeured van for your transportation in Granada 
Our chauffeurs are confident and reliable, professional and experienced. They are licensed to drive passengers and have much practice in that sphere. Moreover, once you hire a minibus with a driver in Granada, you can mention what language he should master. We have Spanish, English, Dutch, Russian and French-speaking chauffeurs. We are unconditionally confident that our drivers are among the bests in the industry and ready to do their best to make all our clients greatly satisfied. Rely on them as we rely on you.
Choose the desired minibus for a Great Granada Trip 
Not a large group of friends or an extended family with up to eight members can pick up a Mercedes Viano and rent the minibus with a driver in Granada. It is a compact minibus styled elegantly and powered with all the specs to enjoy your transportation in it. For a large group of travelers, 8Rental suggests booking a Mercedes Sprinter (either standard or business) that accommodates up to twenty-four passengers.
All these models are in perfect condition equipped with adjustable reclining seats, free Wi-Fi, air conditioning (automatic and manual), an excellent sound system with CD/DVD players and FM radio, luggage storage space, an efficient safety system, etc. Counting on how many of you will be driving in the van, choose a suitable model.