Charter bus hire in Switzerland
8Rental bus rental with driver in Switzerland offers a broad selection of vehicles with professional drivers to its customers for group tours, coach travels, and bus trips all over Europe. You can find anything from a midi bus to a big coach to compile with your traveling group size, as we prioritize the highest customer satisfaction possible. Compare our offers in Switzerland and pick the most suitable bus from our huge fleet of coaches specially catered to travelers who prefer to share the thrill of exploring a new country.
About Switzerland bus rental
We shall be happy to serve you whenever you need to rent a bus in Switzerland. We offer buses of various capacities, types, and classes, from compact models to big-size coaches capable of carrying around 60 passengers in premium comfort. All the vehicles we offer and the drivers we trust our customers' transportation to have the necessary professional insurance and authorization to drive large groups of passengers. We serve our customers throughout the country, particularly in Bern, Zurich, Geneva, Lausanne, and Basel. We suggest hiring a chauffeured bus by either requesting a quote or making an online booking.
Why choose 8Rental
In the market of rental services, 8Rental Bus rental in Switzerland stands out for a number of quality features peculiar only to the best companies. Dealing with 8Rental, you can be completely confident in the security of your entire group and receive a perfectly equipped bus at competitive prices.
If the meet-and-greet service is included in the order, the driver will meet your whole group at the airport, help you get your seats in the comfortable bus, and arrange your luggage in the storage space under the bus.
Although all our vehicles are perfectly equipped with comfort amenities, including reading lights for longer journeys, TV screens with DVD players, small fridges or cool boxes, toilets, etc., you can still request additional features, such as a special place for a wheelchair, for instance.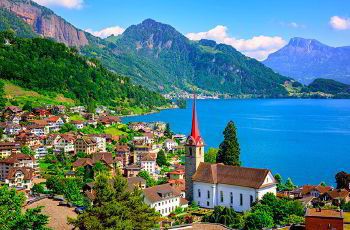 At 8Rental Bus hire in Switzerland, we offer any type of travel transportation, including city tours, excursions, day trips, multi-day tours, one-way transportation (like hotel to venue or airport to hotel), etc. Are you on business or for leisure? In both scenarios, we shall provide you with premium-level transportation in well-equipped buses driven by professional chauffeurs. Get a quote from the site now and get reliable transportation means for your guests if you are organizing an exhibition anywhere in Switzerland, need to transport your colleagues to a conference, or simply want to organize an excursion.
Where to travel in Switzerland
Switzerland is a small country, but it's a host of great places to visit. From breathtaking mountain peaks to turquoise lakes to countryside littered with ancient wonders. If you have determined to get the most out of your tour, rent a bus in Switzerland with a multi-day tour, and the chauffeur will drive you anywhere required. Don't miss the opportunity to travel to the Matterhorn, Chateau de Chillon, Jungfraujoch, and Lake Geneva. The southern city of Lugano, nestled on the shores of the breathtaking Lake Lugano, blends Swiss and Italian cultures into a remarkable weekend break. It's home to numerous museums for art lovers and warmed by Mediterranean breezes for fans of sunbathing.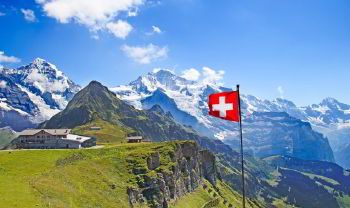 We'd also recommend not missing the largest city in the country, Zurich. It's also Switzerland's cultural and social hub, incorporating everything to a tourist's interest, from the famous Pride parade to Europe's biggest street rave.
Premium transportation coupled with affordable pricing
We pride ourselves on a transparent pricing system aimed at establishing mutually trustworthy relationships with our clients. The cost of an order is counted based on the type of journey, the duration of the tour or the distance to be traveled, the selected vehicle, and whether or not any extras were added on request.
Don't expect any hidden fees. Instead, be aware that the cost per order doesn't cover any paid parking. Our drivers always stop at the free parking areas nearby every destination you want to visit. And yet, if you request to stop at a specific paid parking, you are in charge of the expenses.
How to rent a bus in Switzerland
Renting an 8Rental bus charter in Switzerland is no big deal. Whether you organize a tour for tourists as a professional guide or have your whole team of colleagues to take on a business trip in Switzerland, we have a large charter roomy bus selection to choose the required vehicle.
Smaller groups of up to 33 people can perfectly fit into Mercedes Artego, Iveco Wing, or Man Touring Noge vehicles described on the 8Rental fleet page. Bigger groups are welcome to reserve Mercedes Tourismo or Man Lions to comfortably accommodate up to 55 and 63 passengers, respectively.
Hurry to get a quote - it will take you three easy steps to book the perfect vehicle that will make your tour as comfortable, safe, and affordable as you'd like. You will provide us with an exhaustive itinerary, and our booking specialist will calculate the price for your order. If it fits into your budget, the reservation will be confirmed upon making the small deposit.
At 8Rental, everyone must easily access convenient bus rental services with an expert driver and transportation services. Therefore, if you search for passenger transportation services anywhere in Switzerland and beyond its borders for small or large groups, look no further - 8Rental is the best fit for your needs.