Minibus hire in Switzerland
Choose a minibus rental in Switzerland with 8Rental for a premium travel experience. Our stylish and spacious mini vans and minibuses offer a perfect solution for a group or family trip. Rent a minibus in Switzerland and expect a van from top brands with the latest features. Our services stand out for high functionality, safety, and comfort to deliver the best fit for our customers' mobility needs.
Benefits of minibus hire in Switzerland
Traveling with a group is more economical and a great way to sightsee destinations together. Hiring a minibus in Switzerland is especially beneficial when dealing with 8Rental. Entrusting us with your group tour, you can share the ride and reduce gas costs.
What also you will like about renting a minibus from 8Rental is that our passenger vans are great for outdoor pursuits. They have much room for sports equipment, outdoor gear, musical instruments, etc. Aside from all these, there will be enough room left for your luggage and shopping trips.
If you can't decide which group member should be designated as the driver, 8Rental chauffeured minibus rental services are the best pick for you. We shall take care of the whole tour since our drivers are experienced and licensed to drive groups of passengers.
So, travel with peace of mind that we shall accommodate all your luggage and drive you safely to wherever required in Switzerland or around city while you are enjoying the tour to the fullest.
Best small group travel destinations in Switzerland
Switzerland is a wonderland where medieval history meets serene beauty. Across the Swiss Plateau and grassy flatlands, mountain dwellers produce the trumpet-like harmonics of alphorns. Fraumunster Cathedral makes the medieval roads look enchanting, hidden in shadows, and the colorful Bahnhofstrasse Streets attract with their street folk musicians that entertain passersby with centuries-old music. This list is endless since Switzerland is a country that will remain long in your memories once you visit it.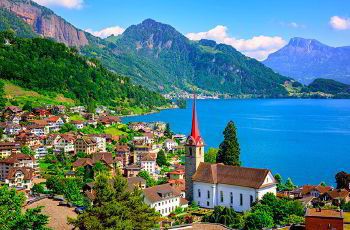 Please, scheme your itinerary beforehand and inform us, particularly which sights you would like to visit with your group. This way, you will help us maximize the efficiency of the tour since the driver will plan the route with all the necessary stops and roads to drive to avoid traffic jams or mandatory use of paid parking.
Depending on how long you plan to travel in Switzerland, try to include as many best holiday destinations as possible. We recommend stopping at Geneva to enjoy European culture, multiple parks, museums, local fountains, etc. In Zurich, take your time to visit the Zurich Zoo, ancient castles, and museums. Interlaken, Bern, Jungfrau Region, Lugano, Lucerne, and Chateau de Chillon in Montreux are other must-sees our drivers will gladly take your group to.
Discover all the exciting adventures of Switzerland with a small group composed of your family members or friends to share the excitement, experience, and memories.
8Rental minibuses
8Rental Minibus rental in Switzerland service offers an impressive fleet of vans of different sizes to make every traveling group feel the utmost comfort. Whichever minibus you choose, you get comfort coupled with safety and reliability.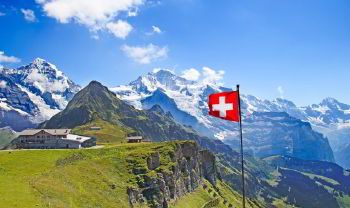 Smaller groups of up to seven passengers are welcome to hire a Mercedes Viano, Ford Transit, or a Volkswagen Caravelle if they have a limited budget. For more comfortable riding in a minivan of the same size, we recommend booking a Business Class Mercedes V Class model that features air conditioning & central heating, air suspension, aircraft-style luxury seats, etc.
Bigger groups of travelers are welcome to rent chauffeured Mercedes Sprinter and Ford Tranzit standard class models or Mercedes Sprinter VIP minibus to accommodate up to 19 travelers in complete comfort. The fleet of 8Rental Minibus rental with driver service in Switzerland is at your disposal round the clock. Apply for a quote at any time of the day.
How to rent a minibus in Switzerland from minibus company
A minibus hire in Switzerland is fulfilled in a couple of clicks as long as you have chosen 8Rental as your chauffeured minibus provider. Request a quote from the official website and fill it out with precise data so that we can calculate the accurate price for your order. Expect an answer within an hour as our operators respond quickly.
Otherwise, you can contact our booking specialist at the given phone number or email us. Know that 8Rental is available round-the-clock, ready to provide its clients with secure and enjoyable driving all around Switzerland at competitive rates.
Best time to travel in Switzerland
Given the geography and climate of Switzerland, the best time to travel to this country is between April and October for culture and history buffs. This is the busiest traveling season; hence, hurry to rent a minibus in Switzerland around two months in advance if your tour falls during these months.
Meanwhile, winter sports enthusiasts prefer traveling in winter months, anywhere from December to March. Generally, the country has four distinct seasons, each with unique attractions. Applying a couple of weeks in advance to rent a van from 8Rental and travel in Switzerland during an off-season is thoroughly enough.