Minibus hire in Liege, Rent a Van with driver
Request a quote from 8Rental and book the most fabulous minivan in Liege! Explore the city's beauties after doing your tasks here.
Travelling to Liege with colleagues being responsible for all of them? Perhaps the first thing you need to undertake is considering the means of transport you are going to use abroad. Surely, relying on public transportation will be headlong just like thinking about hiring taxis for your entire group of colleagues. Hiring a comfortable minivan in Liege before leaving for the city is the only way you can get to every destination in a quick manner together with your whole group. 8Rental suggests becoming your accompanying guide as long as you are in Liege. Just rent a van with driver in Liege from 8Rental and don't bother how you will get to this or that place. We are the car supplier thousands of clients rely on every year. Up till today, we have preserved our spotless reputation and the approval of customers from around the globe. Entrusting us once, you will save the telephone number of 8Rental in your phone, we are sure!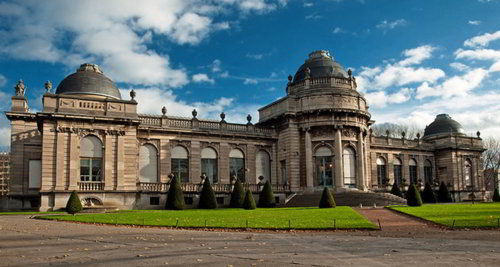 Capacious and Comfortable
A spacious minivan supplied with all necessary specifications for driving in complete safety and comfort is what you need for your whole team. We have a fleet of different minivans to choose from. Before hiring one, consider it well. First, take into account how many of you will be driving in Liege. If there are only up to eight or nine people, we can offer you the standard Mercedes Viano or its VIP model. Both models are equipped with central heating and air conditioning, convenient seats, curtains on windows, carpeted floors, etc. If your group has certain additions requirements such as a TV, a minibar or a fridge in the vehicle, just let us know in your quote. Extra amenities are provided for an additional charge, though small. Hire a chauffeur driven van in Liege now to book your vehicle on profitable conditions.
8Rental wants to remind you we can send a larger minibus model Mercedes Sprinter to the airport to meet your entire group. This model can drive up to two dozens of passengers. Just like the previous model, it is equipped with all the amenities you may consider important for enjoying driving in the city. By hiring this model, just as any other, you will be provided with free of charge fuel and insurance. 8Rental is ready to undertake the payment of all fees and taxes, too. We have made everything so that you get satisfied with our services.
Only Professional Drivers
8Rental works exceptionally with licensed and experienced drivers who can demonstrate a professional approach to every client. Each of our expert chauffeurs knows the city's roads well enough to take the right direction. Hence, you will not have to explain your destination, your driver will be satisfied with the mere address name.

Additionally, we have English, Russian, French, German and Italian speaking drivers all at your disposal. Hire any of them who speaks your language to make your communication easier and more pleasant.
Don't Lose Your Chance to Explore Liege
Liege is an amazing city in an amazing country. It has so many wonders one can't but admire and adore. So, even if your group is here on business, you'd better hurry to accomplish your work quicker and have at least a day or two to explore the city. Returning to your hometown without visiting Pont de Fragnee, Le Peeron, Montagne de Bueren and other sights will be a real sin! Believe us, you won't forgive yourself later!
So, after booking a minivan in Liege and fulfilling your tasks here, have a walk in the city. Visit Eglise St-Jacques, Chapelle Saint-Roch en Voliere, Cathedral de Liege, La Cite Miroir, etc. At the end of the day, choose a restaurant in Liege and enjoy the fantastically delicious local cuisine. 8Rental would recommend dining at L'Ecailler or Terra Terrae, but these are fine dining establishments. For more moderately priced dinners, you'd better choose Restaurant Saveurs de Bulgaria, La Cantinetta, Le Mekong, Chez Nathalie, or La Bouffonnerie.