8Rental provides respectable chauffeured vans hire in Sheffield at reasonable & pleasing customer's ambitions costs. 8Rental's purpose is to ensure credible & confident passenger transportation on Sheffield streets, roads & South Yorkshire environs. Hustle-free positive ride, politeness, courtesy - fundamental elements of hiring 8Rental's new vans driven by punctual vigorous chauffeurs!
Chauffeur driven minibus hire, South Yorkshire: safe & secure ride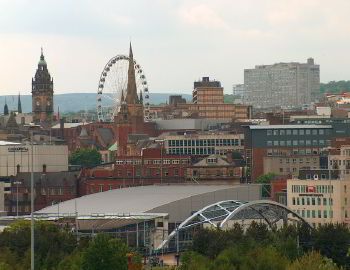 8Rental's hard-working team composes organized drivers, knowledgeable about Sheffield routes, directions & locations. Agreeing with hire conditions from 8Rental Reservations you order top-level South Yorkshire's chauffeur-driven minibus supplier!
All inclusive taxes quote
Preliminary proposal includes:
Sheffield detailed-oriented driver
up-to-date minibus
fuel
bridges & motorways charges
toll road fees
VAT
Reservation process: three steps for booking a van with us
Rent a minibus in Sheffield with driver decidedly!
Send your travel requirements
Get affordable bid
Confirm passenger van with driver booking with a deposit at reservation
We'll be very privileged to assist you, your friends and colleagues in future requests in South Yorkshire. We can accommodate your travel needs, providing you with safety and comfort.
Choose from the range of vehicles we are happy to offer
Chauffeur driven minibus hire in Sheffield: features & details
Vehicle specifications:
reclining upholstered seats
premium AM/FM Audio System
heating system
WI-FI Access
Fully A/C air conditioning.
spacious luggage area
Hire a budget minibus with driver
Inexpensive chauffeured minibus rental in Sheffield - affordable money-saving option!
Cheap minibus hire: amenities
reclinable cozy seats
spacious overhead compartments
climate controlled systems
alcohol & smoke-free
Rent a luxurious minibus with chauffeur
Deluxe minibus contains:
plush seats with armrests
electrical outlets
tinted windows
overhead storage area
AC & heat
DVD players
Wi-Fi Internet access
Rent a chauffeur driven minibus in Sheffield: driving license
South Yorkshire's detail-focused drivers are adaptable, well trained & fully certified.
Hire a minibus in Sheffield with a driver

For many years 8Rental has been providing comfortable & safe ground transportation in South Yorkshire area, working with licensed carriers from Barnsley, Doncaster, Rotherham, and Sheffield. 8Rental strives to satisfy customer's travel needs, such as business events, weddings or family tours. Chauffeur driven minibusses are perfect for all corporate events or private functions. No matter what customer's planning to see or do, 8Rental's minibus hire in Sheffield with driver provides perfect comfort level & utility. Magnificent destinations, including Cannon Hall Farm, Yorkshire Wildlife Park, Cusworth Hall, and Graves Park would be the top points of interest for adults and kids. Traveling to Doncaster? Сonfidently explores Conisbrough Castle, Brodsworth Hall, The Dome Leisure Centre, and Doncaster Racecourse. At 8Rental your destination is our business!