Chauffeur service in Coventry, Rent a car with driver
8Rental Reservations allows to hire a car with driver in Covenry, West Midlands region. Company's business aim-safe transportation at most permissible rates in Coventry, Wolverhampton, West Bromwich, Dudley. Politeness, courtesy, security-primary pluses of hiring a chauffeured motor vehicles with 8Rental Reservations!
Chauffeur driven auto rental, Coventry: Reliable Chauffeur Services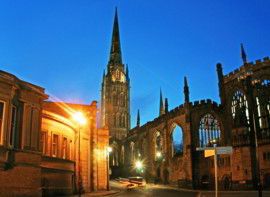 Welcome to Coventry, dear & highly respected customers!
8Rental's respectful drivers are well-acquainted with Coventry"s streets, roads, routes, West Midlands county & region. Be sure that dependable driver will professionally drive your guests from railway or bus station safe to the requested direction. 8Rental Reservations-your private chauffeured car supplier in Coventry!
Total All-inclusive offer
Quotation includes: auto, fuel, local driver, value-added tax, toll road charges.
Chauffeur driven car rental, Coventry: basic vehicle characteristics
Base car model combines perfect combination of craftsmanship. Each person will instantly feel safe in extremely good looking chauffeured car with nicely styled cabin; practical interior, excellent headroom, decent legroom, ergonomic seats, big boot.
Chauffeur service in Coventry, West Midlands: driver's certificate
Coventry drivers hold all documents permitting to realize passenger transportation.
Ask for preliminary bid
Whatever direction your Coventry road leads, rent a car with driver in Coventry by 8Rental.com aims to make considerable contribution to that. Have any specific queries? Reach 8Rental asap!
Chauffeured car rental in Coventry

Coventry, 12th UK's largest city, is situated in the West Midlands region. City is located 153 km northwest of central London. Coventry population reaches 348 thousand citizens.
Coventry and Warwick universities are members of prestigious Universities UK advocacy organisation. Coventry hosts the "Godiva Festival", a 3-day event, which attracts around 70 thousand visitors annually. Coventry City F.C. plays in Sky Bet League 1. Twin cities: Graz, Ostrava, Dresden, Warsaw, Bologna, Kiel and Saint-Étienne. Local sights include Herbert Art Gallery & Museum, Belgrade Theatre, Ricoh Arena,War Memorial Park, Swanswell Park.
Standard class auto rental
An economy model car hire in Coventry-ideal budget choice!
Standard rental model review: family-friendly car with suitable travelling conditions,
nicely styled cabin, easily fits 4 passengers plus chauffeur, excellent headroom, supreme comfy ergonomic seats.
Business & Luxurious auto rental
Business appointment in Coventry? Hire unique design Chrysler, exclusive eye-catching BMW series or luxurious striking design Mercedes S Class model.
Uniformed, friendly local carrier will drive you from Coventry railway or bus station to indicated address.
Luxurious chauffeur car's definition; luxurious masculine looking, soft close doors, shadowline exterior trim, rear window sunshade, intelligent business assistance system, spacious boot. Passenger seating capacity: 3-4 persons.
Get pre-established rate and book easily your car rental with driver in Coventry!
Hire a chauffeur car in Coventry!
Booking method is accessibly described below
Request for a price
Receive pre-established rate
Confirm your booking with the deposit.