Lublin is an ancient Polish city. The city is located in the north of the Lublin Upland and is divided into two parts by the Bystšice River. Lublin is the largest city in Eastern Poland. Lublin attractions are concentrated in the historic center of the city - in the Old Town. This is the oldest part of Lublin, listed in the list of historical monuments. The main attraction of the square is the Kraków Gate. It is the symbol of Lublin, the ancient gate of the 14th century leading to the Old Town. The Trinitarian Tower is a neo-Gothic bell tower. It is the tallest building in the historical center. The Lublin Castle was built on a hill by King Casimir the Great in the first half of the 16th century. Nowadays, within the walls of the castle, there is the Lublin Museum, which consists of the Gothic Donjon Tower, the Gothic Chapel of St. Trinity, the ruins of the so-called Jewish tower, as well as the Neo-Gothic building of the former prison. The old church square is an old square in the Old Town. As a result of archaeological excavations, the remains of the St. Michael. Basilica ancient church of the fathers of the Dominicans - one of the oldest temples of Lublin. Together with the monastery is one of the oldest institutions of the city.
Lublin is the best to see travel on a reliable minibus
The service for renting high-speed and reliable minibusses is a good option for having a great time in beautiful Lublin. 8rental provides with the best means of transportation with all the amenities inside, which will make any trip not only quick and productive but also very comfortable. All that is required from customers is to go to 8rental.com., choose the suitable minivan and quickly book it on a certain date. We are waiting for your quote now!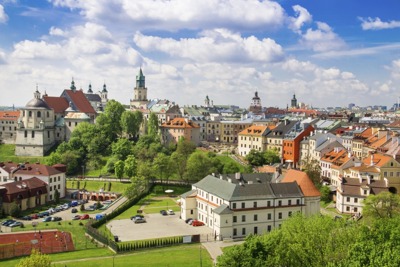 Lublin viewing from classy minivan's window
The sightseeing of Lublin will be comfortable and so enjoyable with the use of quality minibusses rented at 8rental.com. Here, each can get the best means of transportation for the most incredible excursion to this beautiful city of Poland. The minivans of the company are in excellent working condition, the interior is always clean and very comfortable, thanks to the availability of certain amenities.
Experienced driver service for perfect Lublin trip
The drivers of minibusses for this service are very conscientious and reliable people. Traveling with them will be interesting and safe, and at maximum comfort. Drivers are very responsible, conscientious, serious people without bad habits, everyone has a great experience in passengers' driving and they also speak several international languages.
A class minivan is the best choice for a trip around Lublin which will bring a lot of incredible impressions to every traveler!