Coach hire in Essen, Bus hire with driver
Hurry to get a quote and ensure your group of travelers with secure and comfortable transportation in Essen!
Making 8Rental Your Travel Companion in Essen
Essen is one of those attractive and at the same time educational cities in Germany where you can organize a tour for children and students. There is so much here to explore and admire! And if you have made up your mind to organize a tour for your students, you will need a reliable and capacious means of transportation for them. 8Rental offers to rent a bus with driver in Essen on the most convenient conditions. Knowing your guests are comfortably accommodated in the vehicle and will get safe driving along the city's roads, is truly highly important. And 8Rental is the chauffeured service you can trust whenever you need a reliable transportation in any European city.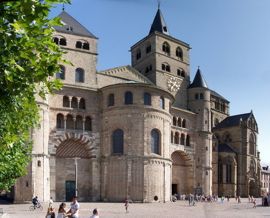 Having operated in the industry of passenger transportation for many years, 8Rental has managed to serve thousands of clients making all of them stay pleased with their choice. Never doubt, you will become one of them once you see for yourself the high level of service we provide.
Now, when you are seriously considering booking a bus with driver from 8rental, we would like to present to you what we are going to provide you with.
Incredible Staff of Workers
8Rental makes the customer satisfaction level a priority. We reject any possibility a client may regret turning to us. Our entire staff of workers starting with route coordinators and ending with chauffeurs do their best for you to enjoy your visit to Essen. Our drivers are licensed and experienced. They have been transporting passengers for years and know well how to approach every client. Whether you need a sociable driver who will help you make the tour for your students unforgettable or a silent one who won't interfere with your job, we have a suitable chauffeur, be sure!
Additionally, we have as German-speaking drivers, so those who can speak other languages such as English, Russian, Italian, French, etc. Just let us know what type of a driver you expect to get when hiring a coach in Essen.
Drive in Comfort and Luxury
Who said that driving in a huge bus is tiresome? No way with 8Rental! We have enlarged our fleet of vehicles with standard and business class Mercedes Tourismo models for transporting up to sixty-five people in complete comfort and safety. These vehicles are equipped with such amenities as toilets, coffee machines, fridges, air conditioning, central heating, small kitchens, reading lights, amazing seats in aircraft style. All of your students are guaranteed to enjoy their traveling on this bus!

Bonuses from 8Rental
Are your guests in Essen only for a day? Would you like our coach to meet and pick them up right at the railway station or airport? No problem, we can do that! We can meet you wherever you need in Essen and take to any destination in Essen. All directions are available or you!
8Rental wants to remind you that by hiring a bus with driver from 8Rental, you get free fuel and insurance. What concerns any taxes and fees, they are all our responsibility. All that you need is getting a quote, completing it and sending to us. This won't take you more than a couple of minutes. We are online 24/7 to provide you with royal bus transportation in Essen!
Essen for Students
Essen is sure to deeply amaze your students. Definitely, such landmarks as Old Town Kettwig, Kruppsiedlung Margarethenhole, Alte Synagoge, Philharmonie Essen have a great significance in the City's history, hence should, by all means, be visited. Yet, there are also many other worth seeing. Hire a chauffeur driven coach in Essen and tell the chauffeur drive you to Red Hot Design museum, Dom-Schatzkammer, Oktorail, Mineralian Museum. At Hot Tour Essen your young guests can enjoy the speed of furious yet secure racing, while at Jagdhaus Schellenberg-Biergarten they can taste some of the most delicious local meals. Essen is truly a wonderful city to travel with children and young people. Let 8rental accompany you during all the miraculous moments of your traveling to Essen!