Duisburg is located in the western part of Germany. Its popularity is due to the inland port, the largest in Europe. By the way, the new and restored buildings, fashionable restaurants and clubs, as well as admirable museums and city landmarks make it even more attractive. Whether you are in Duisburg on leisure or you simply have a couple of free hours to explore after a business meeting, start your tour with Museum der Deutschen Binnenschiffahrt, Museum Kuppersmuhle, Rathaus Duisburg. To get a portion of adrenaline and fun, Tiger & Turtle - Magic Mountain will be a great destination!
It's been years since 8Rental gave a start to delivering travelers in Europe premium car rental services. We have already the necessary experience and are fully determined to make the transportation of every client, relying on us, as comfortable as possible! Particularly our passion and devotion to our work helped us get the fame and approval we enjoy today. Thousands of clients choose 8Rental being sure their car hiring expectations are going to be thoroughly satisfied. Become one of them by booking a premium car on profitable conditions right away! Get a quote and trust your transportation to 8Rental for enjoying your free time.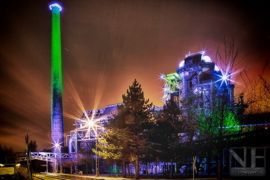 Affordable Prices and Professional Customer Service
8Rental does not pursue the aim to rob its clients by offering chicky cheap services. Instead, we can guarantee amazing cars, skillful drivers and a series of extras you will consider affordable. When filling it out a quote, you will get the precise price of your order with no hidden fees. We have adopted a transparent pricing system as we highly value the trust of our clients. Additionally, 8Rental included in the price the necessary fuel for the whole tour regardless of how long you may need the car with a driver at your full disposal. Hire a car with driver in Duisburg and be certain you won't' find more beneficial car booking conditions!
The Cars You Search
8Rental has created a fleet of most diverse cars to meet any client's requirements. If you are short on money, no need to worry. We have a series of standard class cars and all look splendid and come equipped with the basic comfort features. Each of this cars has such specs as comfy seats, safety airbags, audio system, etc. Hiring any of these vehicles, you are going to drive even long routes in complete safety.
However, if you have a relatively larger budget, why not book a first class car? Cars made by auto-manufacturers as Audi, BMW, and Mercedes can be at your full disposal along with a skillful driver. Just click the hire button and rent a chauffeured car in Duisburg now! These vehicles will welcome you with fascinating interiors (fine leather, wood trim, etc.), fantastic seats, climate control, a premium secure system, an installed audio system, etc.
Or if you are in Duisburg on business and would like to make a good impression on your possible business partners, it's really worth hiring a gorgeous Audi A6, Mercedes E class or any other business class car. They are spacious and exquisite, packed with the highest requirements that business class vehicle implies, and they simply look divine! Choose any of these provided models and hire a chauffeur-driven car in Duisburg for enjoying every minute of driving on the city's roads!

Trusting Credible Drivers
Are you concerned with the thought who will be driving you in Duisburg? Let us assure you that all our chauffeurs are amazing specialists. They are licensed and highly qualified, responsible and professional, and they speak at least one of the international languages. Knowing Duisburg very well, these drivers will take any necessary direction easily. Moreover, in case you can't determine where to start your traveling in Duisburg, turn to your driver and get the best advice. They know well all the city sights - both widely-known and off the beaten path.
8Rental is available any time of the day to receive your orders and answer your questions. Feel free to apply to us whenever it's convenient for you.