Situated near such famous and big German cities as Cologne and Dusseldorf, Gelsenkirchen thousands of foreigners visit the city annually. Regardless of the aim of their traveling, all these people demand a reliable means of transport. 8Rental, the dominating car supplier in European countries, offers its services to all those travelers who agree to nothing but premier cars and responsible drivers. We have been working in the sphere of passenger transportation for already several years and know well what customers expect to get when applying to us. Hire a car with driver in Gelsenkirchen to be transported in this lovely German city royally!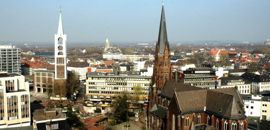 The Car You Need
No matter if you are in Gelsenkirchen on business or just have decided to spend your weekend in the city, you can always find a suitable car model in 8Rental's fleet. We have relatively inexpensive models including Opel Corsa, Toyota Camry, and others. Though priced affordably, all these vehicles are in fantastic condition. They look great and come equipped with all original specs.
Anyway, if you are used to driving in luxury, 8Rental will advise hiring a first-class car such as an Audi A8, BMW 7, Mercedes S class or any other similar model. The gorgeous vehicles promise you will get fascinated driving along the roads of the city. They are merely stunning equipped with any comfort amenity you may think of. And if you have any additional requirements, feel free to tell our CS operators. On an additional charge, we shall equip the car with a TV, a minibar, or any other spec you will find driving with more convenient.
Especially for business travelers, 8Rental has an impressive series of business class cars. Booking any of them and entrusting your driving to an experienced chauffeur, you'll be able to work during the way and finally make a profound impact on your business partners by appearing to the meeting in a stunning car. Choose 8Rental to rent a chauffeured car in Gelsenkirchen and benefit greatly!
The Chauffeur to Rely On
When dealing with 8Rental, you are going to be provided with a skillful driver. Be sure; you'll feel so safe and secure knowing there is a dependable chauffeur behind the wheel. 8Rental hires only licensed and practiced drivers who approach every client responsibly. Well aware of the city's roads, they can immediately take the right direction.
We can meet you anywhere you need. Book a car and be met right at either Dortmund or Dusseldorf airports, as both are only 50 km away from Gelsenkirchen's center. We shall meet you and deliver to any destination you need. Just get a quote to rent a chauffeur-driven car in Gelsenkirchen right away.

The Service You Should Choose
Being one of the leading car rental services in whole Europe, 8Rental always cares for its customers' satisfaction. Besides providing a wide choice of several cars, a staff of expert drivers, 8Rental also offers a transparent pricing system. By getting a quote and filling it out, you'll get the accurate price with no hidden fees. Besides, we are in charge of the fuel and any taxes that may appear during the tour. We do care for your convenience!
Spend a Day in Gelsenkirchen
Gelsenkirchen is a pretty city you will like to stop for a day or two. There are several sights and landmarks worth visiting, exciting museums, lovely parks, and fantastic restaurants, pubs, and cafes. You will love having dinner at Cafe Extra Blatt, Cafe Arminstraße, El Sombrero.
Among Gelsenkirchen's must-sees, we can mention Halde Rheinelbe, Sankt Urbanus Kirche, Haus Luettinghoff, Schloss Berge, Schloss Horst, Kunstmuseum Gelsenkirchen. Explore the city with 8Rental!