Minibus hire in Essen, Van hire with driver
Traveling abroad brings fantastic experiences! You get acquainted with new people and their culture, admire historical and cultural heritage of new countries. All this leaves a significant trace on your worldview and thinking. And to make this experience perfect, you need to get reliable means of transportation. It's obviously better to have a private van in case you are traveling with your whole family. 8Rental suggests hiring different minivans with a professional driver in Essen to completely enjoy your tour. This is a leading car rental service in entire Europe with impressive experience in the field. The mere name "8Rental" is a pledge for reliability!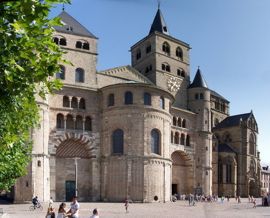 Pick Up the Most Trustworthy Service in the Industry
8Rental car supplier is here to offer you its high-level services. Hire a minibus with driver in Essen and experience the most comfortable driving in a foreign city of your life! Everything here is catered to satisfy and exceed our clients' expectations. Besides the van and expert driver you book, we can provide you with free fuel, insurance, as well as certain extras (a TV or fridge in the vehicle, meeting at the airport, etc.). All the taxes and fees, meanwhile are our responsibility. Taking into consideration all this, as well as reasonable prices we set on our services, it becomes obvious 8Rental is the chauffeured service in Europe you have been searching.
Best Vans for You
Booking a vehicle from a car rental service, one should first of all base his choice on the following aspects:
the number of passengers to be driven in the vehicle
the budget one can afford on renting the car
the reliability of the vehicle
special preferences one might have.
8Rental offers to book a standard Mercedes Viano or a business class Mercedes V class VIP minivan if there are only up to eight of you. Both models look elegant and are available in excellent condition. And if the first model is equipped with all the basic specifications presumed to be in a van, the second one is powered more richly. Rent a chauffeured van in Essen to get assured yourself.

Anyway, you might also like the Mercedes Sprinter model if your group is composed of more passengers. This minibus is designed to transport up to two dozens of people at the same time. It has such amenities as air conditioning, central heating, premium safety system, reading lights, curtains, advanced audio system. etc.
Professional Drivers at Your Disposal
8Rental allows hiring its vehicles exceptionally with drivers. This fact has got its pluses. First, you don't need to carry your driving license with you abroad. Secondly, you don't have to be constantly alert not to break a traffic rule in a foreign city. Besides, there is practically no need to dig into a city map or follow the GPS, as our drivers are well aware of all roads and destinations in Essen. They will take the right direction immediately once you name the address. Besides all these pluses, there is one last, too - you can enjoy a great time in a bar with friends not being worried who will drive all of you to your hotel. And if we add the high level of professionalism of our chauffeurs to all these, there is no sensible alternative left - you need to entrust 8Rental and its experienced drivers! Hire a chauffeur driven van in Essen right away to get the most out of your visit to this magnificent German city!
Essen for Art Lovers
Essen is a lovely city that annually attracts around eight thousand tourists. Most of all, these people head to the city for enjoying performances and art exhibitions. So, if you and your whole family (or perhaps your friends) have arrived in Essen in order to admire the popular cultural and architectural tourists sights and landmarks, you should have a look at Old Town Kettwig, Dom-Schatzkammer, Museum Folkwang, Kruppsiedlung Margarethenhohe, Old Town Werden and plenty of other tourist attractions. You need to devote at least several days to manage to see the majority of significant sights.